Discover more from Legendary Scoop
Tech and gadget news through editorials, reviews, and sporadic essays. From the mind of Max Buondonno.
Are smart glasses getting better?
A recap of Amazon and Microsoft's events, with an aggressive focus on one specific product that no one will buy.
We're in the middle of iPhone season, but that hasn't stopped Amazon and Microsoft from hosting their own events to show off what they've been working on. I wasn't invited to either of them in person, but I caught up on all the news afterward, and I can tell you that my favorite announcement was a pair of smart glasses.
Why smart glasses, you ask? I've been fascinated by the category for years, mostly because no one seems to know what to do with them. Some companies have decided Bluetooth music is the only thing people care about, while others strive for an ambient computing experience with augmented overlays for information at a glance (a la Google Glass).
Legendary Scoop is a reader-supported publication. To receive new posts and support my work, consider becoming a free or paid subscriber.
Amazon's approach? Make glasses that look normal with Alexa built-in.
It's sort of a happy medium, somewhere between the ultimate face-worn computing platform and a basic pair of spectacles with speakers in their stems. The new Echo Frames, Amazon's second iteration after their debut in 2020, want to fit into your everyday style, while the technology fades into the background.
That's why they look so good. In these press images Amazon provided, you'd be hard-pressed to tell the difference between these glasses and a normal, non-smart pair. (Okay, I suppose if you look at the stems of the glasses you could tell, but still—progress!)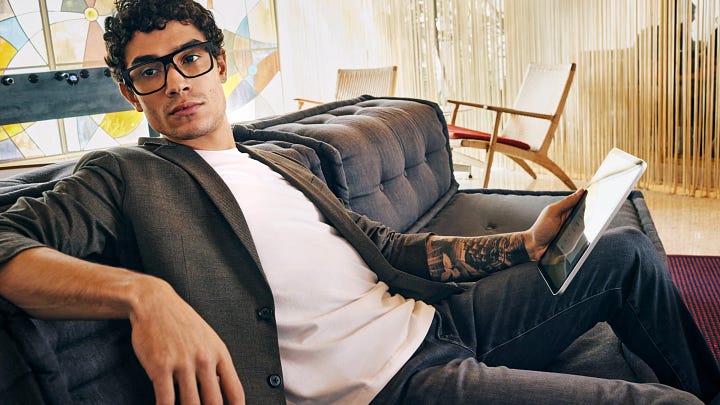 Amazon says instead of developing the technology first and designing glasses around it, it worked backward, creating aesthetically pleasing glasses with the computing bits tucked neatly away. It had to take a different approach to the engineering of the Echo Frames to make these changes, which included moving the circuitry from the front frames to the temples.
The result is a lineup of eyewear that looks like the same stuff you'd get at the eye doctor or a fancy boutique. In fact, that's exactly what you'd get: mixed in with Amazon's own styles are two designs by Carrera Eyewear of Safilo Group, giving you even more variety and further stressing Amazon's commitment to style with this generation.
Of course, the tech inside is getting an upgrade, too. Amazon says the sound quality from both speakers is improved with better bass and clarity than before, although they probably won't be replacing your earbuds anytime soon. They use an open design which secludes the sound to your ears and can't be heard by others (unless you crank the volume way up).
Alexa should be a lot faster to process requests thanks to new custom-built speech processing, which Amazon says also helps in recognizing requests in loud or windy conditions. This way, there should be less friction between you and the voice assistant which, hopefully, will increase your daily usage of Alexa. I know Amazon would love it if we all used it just a little bit more.
Amazon also says it's increased the battery life of the Echo Frames to six hours of continuous usage, which should be enough to get through a full day. There are also a few new features thrown in the mix like multi-device pairing (helpful if you're using your laptop at home for a video call and want to listen to music on your phone when you leave), a double-tap gesture on the back button to start a playlist, notification filtering, and the ability to ask Alexa where you placed your glasses if you lost them.
And in case you were wondering, the lenses can be simple blue-light filters for computing or be swapped for your prescription. Amazon also offers UV400 sunglass lenses. The lenses are scratch-resistant, and the entire package is IPX4 certified in case you step out into the rain.
These new Echo Frames seem like they could be the first pair of truly good smart glasses, if only because they look so good. I can't stress this enough: if you're going to put technology in a pair of glasses, people don't want to wear them because they think they'll look like a nerd. The tech has to fade into the background and be forgotten about until you want to use it. And while the design isn't perfect, Amazon has gotten the closest I've ever seen to making a pair of smart glasses folks might actually want to wear.
With a starting price of $389.99, it might be tricky to convince a lot of people to buy them, especially if you ask them to make them their primary eyeglasses, prescription lenses and all. The market is still in its infancy, and many people will need to get used to the idea of Alexa living on their face. But this is an important step in the right direction for the future of smart glasses.
Most of them suck, but maybe Amazon's don't, and that's pretty enticing as it is.
Other Amazon announcements
In typical Amazon fashion, there was a flurry of other announcements during its event. Here's a quick rundown of them all.
Alexa is getting upgraded with generative AI. Soon, you'll be able to say "Alexa, let's chat" and have a conversation with Alexa like you would with ChatGPT or other AI bots. The technology will help Alexa feel more natural to interact with, backed by an improved voice that sounds far more human than you'd think. Oh, and if you own an Echo Show and enroll in a facial detection system, you'll be able to speak directly to the screen to start chatting with Alexa, which is pretty cool. It's unclear when this feature will ship.

There's a new Echo Show 8 and Echo Hub. Amazon's Echo Show 8 gets upgraded with a centered camera above its display, better background noise suppression when speaking, spatial audio, Thread and Zigbee support, 40 percent better performance, an updated home screen with improved menu functions, and more. Meanwhile, the Echo Hub is a new addition to Amazon's lineup, and it's basically an Echo Show 8 minus the speaker. You can mount it to your wall and control all of your smart home appliances with it, with latency as low as 300 milliseconds. It supports all of the same smart home protocols as the Echo Show 8 and can be powered using power-over-ethernet with a compatible USB-C adapter. The Echo Show 8 costs $149.99 while the Echo Hub costs $179.99. Both launch later this year.

Fire TV gets an upgrade. The new Fire TV Stick 4K (2nd Gen) gets 30 percent better performance than the previous model and supports Wi-Fi 6 for $49.99. Meanwhile, the slightly more expensive Fire TV Stick 4K Max (2nd Gen) has support for Wi-Fi 6E, Dolby Vision, HDR, HDR10+, Dolby Atmos audio, and the new Fire TV Ambient experience which can transform your TV into an always-on smart display. It's priced at $59.99, making it the obvious one to get between the two. Amazon also introduced a $119.99 Fire TV Soundbar that supports DTS Virtual:X and Dolby Audio, and can be paired with any Fire TV device. They'll all start shipping over the coming weeks.

Need some new home security gadgets? Amazon's got you covered. There's the new Blink Outdoor 4 Floodlight Camera that combines an HD security camera with an LED floodlight (and it has two-year battery life using its default settings), as well as the Ring Stick Up Cam Pro that can give you an aerial view of the inside or outside of your home, while also packing features like 3D Motion Detection, Bird's Eye Zones, and Bird's Eye View. The former costs $159.98 while the latter is priced at $179.99. They each launch in mid-October.

Gadgets for the kids were also showcased. Amazon unveiled the new Echo Pop Kids speakers with Marvel and Disney Princess themes for the little ones, priced at $49.99. There's also a new Fire HD 10 Kids tablet that can be configured with age filters for 3-7 year olds or 6-12 year olds (you can obviously adjust these filters during setup). It comes with a 10.1-inch display, 32GB of storage, up to 13 hours of battery life, and a 25 percent performance boost over the previous generation. It's priced at $189.99 and ships with a Mickey Mouse or Disney Princess-themed protective case in the box.
---
Microsoft's big NYC event
Just one day after Amazon, another event occurred in New York City hosted by Microsoft. It wasn't immediately clear what the company had in store, with some speculating it would be an introduction to the next major Windows update or an upgrade to the Surface Pro lineup.
Turns out, it was a lot more software than hardware. The biggest headline was Copilot, Microsoft's AI chatbot that's going to be woven throughout the next major Windows 11 update. Copilot is basically Bing Chat, which uses ChatGPT for AI-generated search results and responses to queries, but for all the other things you do on your Windows machine. That could mean organizing your files, sorting data in an Excel sheet, generating a starter paragraph for a new Word document, and more.
Copilot supports both typed requests and voice requests, which could turn your Windows PC into quite a powerful generative AI platform. The feature is shipping with the Windows 11 2H23 update, which is set to start rolling out on September 26th to supported users.
The update, which has been in testing for a number of months, is set to be a pretty significant upgrade for Windows 11 users. Beyond Copilot, Microsoft is introducing a lot of new features for Paint, Snipping Tool, Outlook, File Explorer, and more. It'll feel a bit fresher, too, with tweaks to the UI throughout the system. No, it's not going to substantially change the Windows 11 experience, but your interactions with your PC may change thanks to Copilot.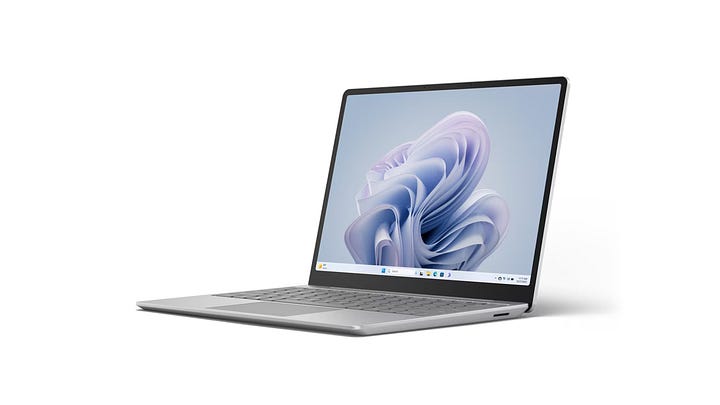 Of course, with a big new update, you need some hardware to feature it on. Microsoft didn't do anything crazy on the surface (get it? Surface?), but the updates it made to the Surface Laptop Studio 2 and Surface Laptop Go 3 seem pretty neat.
The Surface Laptop Go 3 is basically the same as the Go 2, just with a newer chip: Intel's 12th-generation Core i5. The previous version had the 11th-generation, so you'll be getting better performance from the newer model (which Microsoft says is 88 percent better than before). It's paired with up to 16GB of RAM and 256GB of storage.
Beyond that, it's the same ol' Surface Laptop Go. You're still getting a 12.4-inch display with a 3:2 aspect ratio, a decent amount of ports (including USB-C, USB-A, and a headphone jack), Wi-Fi 6, and a fingerprint scanner. Microsoft says it has 15-hour battery life, but that'll obviously need to be tested in the real world. The laptop still starts at $799 and goes on sale October 3rd.
Meanwhile, the Surface Laptop Studio 2 is a bit more exciting, if only because it's Microsoft's vision of a premium Windows laptop. Granted, it's not changing much compared to the original model, but it'll hopefully patch some of the shortcomings.
That includes performance, which tends to choke once you start doing heavy stuff on it. Microsoft has upgraded the internals with Intel's 13th-generation Core i7 H-series processors, along with your choice of an Nvidia GeForce RTX 4050 or 4060 GPU. This combination should help speed things up when your workloads get heavier, but only time will tell. You also get up to 64GB of RAM and 2TB of storage.
One of the biggest spec upgrades is the inclusion of a dedicated neural processing unit (NPU) from Intel, which helps to speed up AI tasks. With Copilot on the way and plenty of other AI-related goodness in the rumored Windows 12 upgrade, Microsoft is laying the groundwork for improved AI performance on its flagship laptop.
Other changes include an upgraded trackpad with new accessibility options, a USB-A port, a microSD card slot, a charger for the Surface Slim Pen 2, and a little extra thickness and weight to accommodate the updated internals. Beyond that, we're looking at a nearly identical Surface Laptop Studio design with a 14.4-inch display that can be pulled forward and docked for drawing or watching content. It still has a layered build with plenty of space for the fans to cool things down, and it's still far from the most portable laptop on the market.
Microsoft is pricing it at $1,999, which puts it head-to-head with Apple's redesigned MacBook Pro. It's going on sale October 3rd. I'm getting a chance to review the Surface Laptop Studio 2 for a new site, so stay tuned for my thoughts.
---
Epiloge
I realize this newsletter is a bit late. I've been dealing with some serious writer's block as I try to sort out my upcoming content schedule. I've got quite a number of reviews to pump out, and I'll be attending two events in New York City in the next 10 days: one of them I can't tell you about, and the other happens to be hosted by Google.
Expect plenty of content from me in the next couple of weeks. We're in the thick of New Gadget Season, so buckle up.
Legendary Scoop is a reader-supported publication. To receive new posts and support my work, consider becoming a free or paid subscriber.