Discover more from Legendary Scoop
Tech and gadget news through editorials, reviews, and sporadic essays. From the mind of Max Buondonno.
At WWDC 2023, everyone got an upgrade
Got an iPhone? Use a Mac? Have an Apple Watch? Own a VR headset? You get an upgrade!
Apple seemed to go on forever with its WWDC 2023 keynote. It didn't technically last very long; the total runtime was two hours and six minutes, yet it somehow felt like three hours.
That's because there was just… so. much. stuff. It was by far one of the busiest Apple keynotes we've experienced in recent years, and one of the most monumental given the launch of the company's first mixed-reality headset.
It was chock-full of hardware news, software upgrades, and plenty of incredible drone shots of Apple Park and 1 Infinite Loop. We saw Tim Cook make a few announcements himself, plenty of executives who made cameos to introduce different sections of the keynote address, and Craig Federighi shred on an electric guitar like his life depended on it.
The show also managed to consume the news cycle for the week (as is typical for an Apple event). Beyond a few minor headlines on updates to apps and services from competitors, no one risked announcing anything this week for fear of being suppressed by another Apple headline.
Apple Vision Pro has a lot to do with that. It's the company's first foray into a new product category since the Apple Watch in 2014, and it might be the most influential device in Tim Cook's legacy as CEO.
It's making a bunch of big promises, including one that will define Apple's future in the mixed-reality space: steer clear from total immersion as often as possible, while maximizing the ease of use of augmented reality experiences. Vision Pro wants to blend the real and digital worlds as seamlessly as possible, which is the opposite of the dystopian Ready Player One-like future everything thinks we're headed toward.
That might be what Meta's mission is with its strong focus on the metaverse, but it's definitely not for Apple. Tim Cook has stressed time and time again that AR will be a much stronger focus for Apple than VR, and the Vision Pro is the first step toward the inevitable future where we all look at and interact with augmented objects through eyeglasses, contacts, and other face-mounted projections.
"Spatial computing," as Apple calls it, is also a strong point of focus for the Vision Pro. It can do all the stuff your iPhone, iPad, and Mac can—like surf the web, create documents, watch movies, play games, multitask, and connect with friends—but on a much broader scale. Everything from Safari to FaceTime to photos will float in front of you and move wherever you'd like them to live in your physical space. It's a much more freeing experience than being confined to a 14-inch laptop screen, which many people might find value in.
Of course, at $3,499, you might need more convincing beyond the ability to move a Safari window to the corner of your living room. Yes, it has some of the most advanced mixed-reality technology we've ever seen (for instance, there are 12 different sensors on the front just to read the room and register your hand gestures), in addition to a futuristic design. But it's a first-gen device that won't go on sale until early 2024, and it's probably going to experience some growing pains in the same way the Apple Watch did until it evolved from a fashion statement to a fitness tracker.
I've heard from plenty of folks who were impressed with the Vision Pro demos Apple hosted this week (check out my friend Jacob Krol's take on Men's Journal), so the technology seems extremely promising. What it will be used for among the general public? That's going to take some time to figure out.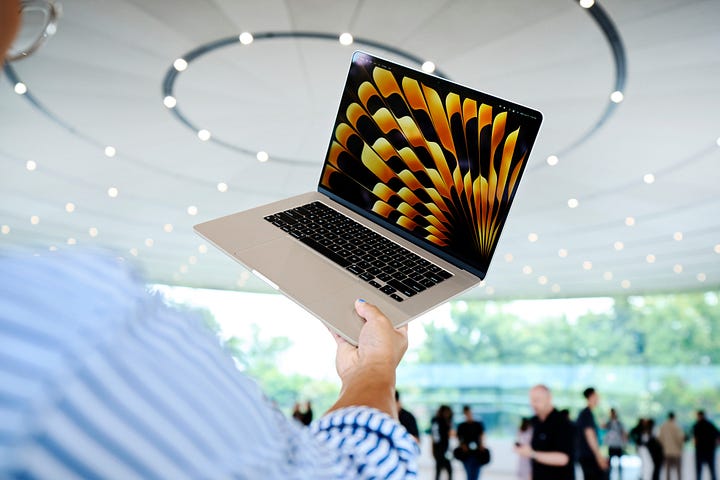 The Mac had time in the spotlight at this year's WWDC, albeit it was quite short. Apple kicked off the morning of announcements with the introduction of the 15-inch MacBook Air. Equipped with a 15.3-inch display, an M2 processor, up to 24GB of RAM and 2TB of storage, and a bigger battery and speaker system than the 13-inch Air, this laptop is no slouch. Plus, it's only 3.3 pounds and 0.45 inches thick, making it one of the thinnest and lightest 15-inch laptops in the world.
The price is also really good; at $1,299, it's going to be one of the best values in the laptop market when it launches on Tuesday. (Side note: the 13-inch Air is going down in price from $1,199 to $1,099, so if you don't need a 15-inch screen, you'll be able to save some money on the smaller model.)
Apple also upgraded the Mac Studio with two chips: the M2 Max and the all-new M2 Ultra. The M2 Ultra takes after the M1 Ultra in that it's essentially two M2 Max processors stitched together. It's Apple's most powerful chip yet, with everything from render times for video projects to code compilations taking less time than ever.
The M2 Ultra is also creeping into another product: the Mac Pro. Finally, after four years of waiting, Apple has upgraded the Cheesegrater Mac Pro with an M-series processor. For most people, Apple thinks the Mac Studio offers enough horsepower to get all your work done, but it wanted to keep the Mac Pro in its lineup to appease those who find value in PCIe expansion.
It's not getting any cheaper; at $6,999, it's the most expensive Mac you can buy. The Mac Studio, for comparison, starts at $1,999 and still surpasses any Intel-based PC in every performance test you could run. That means you'll have to have very specific needs to justify buying a Mac Pro, but it's still cool that such a product exists given its immense capabilities.
As is tradition at WWDC, software took center stage once again. Apple's iOS 17, coming to iPhones later this year, offers up a decent mix of new features and quality-of-life updates, although it's far from the biggest system upgrade we're seeing this year.
Apple gave the Phone app some attention this year with Contact Posters. They're basically customizable lock screens for your contacts, allowing you to customize the wallpaper, fonts, and colors that appear when a certain person calls you. There's also Live Voicemail which transcribes a voicemail in real-time, giving you the option to then accept the phone call if the subject matter warrants it. It's very Google Pixel-like, in my opinion.
In FaceTime, you can now leave video messages for those who don't answer after you've called them. You also get Reactions, which play fun effects during video calls like fireworks if certain hand gestures are recognized. In Messages, there's a new stickers experience, allowing you to slap them anywhere in your message thread. Apple also tweaked the design of Messages a bit to seem less cluttered, with a new "+" button to access your apps instead of a scrolling list above the keyboard.
A new safety feature called Check In will allow you to ensure a loved one has gotten to their destination safely, with live updates on their ETA and device status (e.g. cell signal, battery percentage) if they're running late. AirDrop is getting an upgrade with easier ways to share files with others, while NameDrop lets you hold your iPhone close to someone else's to instantly share your phone number and other contact information.
Widgets are now interactable on the home screen, there's a new Journal app for reflecting on your day and practicing gratitude, StandBy turns your iPhone into a mini smart display when charging, autocorrect is getting smarter, and there are new tools to track your mental health.
I covered iOS 17 in-depth for The Shortcut, and I'll be honest: it took way longer to write than I thought. Despite there not being any sort of major overhauls, the number of smaller updates throughout the system is quite high.
Oh, and while you're reading about iOS 17, check out what Rich Woods and Mahmound Itani discovered about group chats and green bubbles on XDA.
Apple is also upgrading the iPad with iPadOS 17. Its biggest new feature is the ability to customize the lock screen with new fonts, colors, and a huge panel of widgets. It'll feel instantly familiar to anyone who's toyed around with their iPhone's lock screen in iOS 16. Live Activities will also be included on the lock screen at the bottom.
Like iOS 17, widgets are interactive in iPadOS 17. They can also be placed wherever you want on your iPad's home screen, which is a big deal for folks who like customization. Apple is upgrading the PDF experience on iPad, leveraging machine learning to identify text fields so you can type on them without having to rely on a third-party app. Speaking of third-party apps, if you've been using a third-party app to track your health on your iPad, you can retire it once iPadOS 17 comes out: Apple is bringing its own Health app to iPad.
The update also includes the same upgrades to Messages, FaceTime, and autocorrect as iOS 17. There are also upgrades to Stage Manager with support for external webcams and microphones, separate profiles and better privacy in Safari, and support for PDFs in Notes.
macOS Sonoma is the latest version of the Mac's operating system, and there's some good stuff packed inside. Apple is making the lock screen more customizable with new screensavers and widgets, while the latter is also coming to the desktop in a big way: you can place widgets wherever you want, and they'll fade into the background when you open an app and need to focus. Apple will also give you access to the widgets on your iPhone using its continuity technologies, which will let you control the apps on your phone right from your Mac.
Video calls are getting an upgrade with the same Reactions from iOS 17 and iPadOS 17, as well as a new Presenter Overlay feature which floats your head over the content you're sharing with others. You can also be more selective about the content from your screen that's shared by tapping a green button in the app's window while on a call.
Safari is picking up the same Profiles feature as iOS and iPadOS, allowing you to have different bookmarks, cookies, log-ins and more for things like work, personal business, and projects you're working on. Messages gets the new stickers experience, PDFs are easier to deal with, passwords are easier to share with others, and privacy and security are improved with new Communication Safety and Sensitive Content Warning features.
Gaming on the Mac is also being improved with Sonoma, which is a bit of a surprise. Apple is shipping a new Game Mode that will give games priority access to the best CPU and GPU performance available, in addition to less frame drops and lower latency for Bluetooth devices like controllers and AirPods. For developers, Apple is releasing a new game-porting toolkit in Metal that will make it easier to bring games from other platforms to macOS.
There's also a big new update for the Apple Watch. With watchOS 10, Apple is revising the core experience with a stronger focus on widgets. Now, when you rotate the Digital Crown while looking at your watch face, a list of widgets will appear with glanceable information sourced from the apps you have installed. Called the Smart Stack, it's part of a larger visual redesign throughout the system.
Pre-installed apps like Weather, Messages, Home, Music, and Fitness have been redesigned to take greater advantage of the Apple Watch's display, while the included clock faces have also been tweaked to fall in line with the new design language. Apple is encouraging app developers to follow suit and update their apps with the new UI.
For cyclists, Apple is adding a Live Activity to your iPhone when you start a cycling workout in watchOS 10, with a new full-screen view if you tap it. You can also pair Bluetooth cycling accessories to your Apple Watch to track even more statistics like cycling power, cadence, and Functional Threshold Power (FTP).
For hikers, the Compass app can now automatically record the last known location where you had cellular reception in case you need to make an emergency call. There's also a new Elevation view that gives you a three-dimensional view of saved waypoints. New mental and vision health tools are also included, as well as features from Apple's other software updates like NameDrop.
In addition, the side button on the Apple Watch will now trigger Control Center, while a double-tap will give you access to recent apps.
Apple's upgrading the Apple TV with tvOS 17. The biggest new feature is Continuity Camera, which lets you use your iPhone's camera to place FaceTime calls on your television.
There's also a new Control Center, new screensavers, and new ways to find your remote if you lost it.
Apple even made time to talk about some upgrades coming to the second-generation AirPods Pro. The most interesting one is Adaptive Audio, which blends transparency with active noise cancellation to silence annoying sounds while still keeping you present in your environment. It's a wildly interesting concept which I'm very excited to test when it's released.
Personalized Volume is also coming, which is supposed to understand how loud you like to listen to music each day and make adjustments on the back end to make your listening more enjoyable. There's also Conversation Awareness which can lower the volume of your music when you start conversing with someone.
Apple says it's improving device switching with all AirPods so that it takes less time to move from your iPhone to your Mac and vice-versa. There's also enhanced mute/unmute controls on their way to make it easier to silence yourself during a call.
---
To say WWDC23 was jam-packed is an understatement. It seemed that Apple wanted to improve every sector of its product lineup that it could, and I think they achieved that.
If you have an iPhone, there's plenty to get excited about with the iOS 17 upgrade. If you own a Mac, you've got macOS Sonoma and lots of new hardware to gaze at. iPad users will get a new lock screen and new PDF controls with iPadOS 17, Apple Watch users get a huge redesign with watchOS 10, FaceTime comes to the Apple TV with tvOS 10, AirPods are getting massive improvements, and anyone with a VR headset might want to check out the Vision Pro and consider an upgrade (albeit an expensive one).
Apple's new Macs are coming out this week, and all of its software updates will be released this fall. We've got a minimum of six months before Vision Pro goes on sale, and we're expecting new iPhones and Apple Watches this fall. It's a busy year for Apple, and WWDC23 certainly proved that.