Discover more from Legendary Scoop
Tech and gadget news through editorials, reviews, and sporadic essays. From the mind of Max Buondonno.
Six years later, Beats is back
The Studio Pro are the first premium over-ear headphones from Beats since 2017, and reviewers love them.
Have you missed Beats?
There's a good chance you haven't heard from them in a little while. Sure, they've shipped a few pairs of earbuds that turned out to be good, but fans of the classic over-ear cans that launched Beats' cultural impact into the stratosphere have taken a back seat. It's been six (count 'em, 6) years since there's been a new pair of over-ear headphones with the Beats logo (it was the Studio 3 in 2017, for those wondering), and it's been a mystery as to when the company might ship another.
Thanks for reading Legendary Scoop! Subscribe for free to receive new posts and support my work.
That ended this week with the introduction of the $349.99 Beats Studio Pro. They leaked ahead of their announcement, which got me excited for them. Not because I thought I'd be replacing my Sony WH-1000XM5s with them, but because of the way Beats was going to position them: as tried-and-true platform-neutral headphones with high-end features and specs.
It's an interesting direction for Beats to go in, but it makes perfect sense. Apple's own line of headphones is strictly designed to work with its products, while Beats is the brand that works with everything. We've seen this play out most recently with the Studio Buds; they have all the smarts needed to integrate with Apple's proprietary features (Find My, spatial audio, quick pairing), but they also have the smarts for integration with Android (Find My Device, Audio Switch, Fast Pair).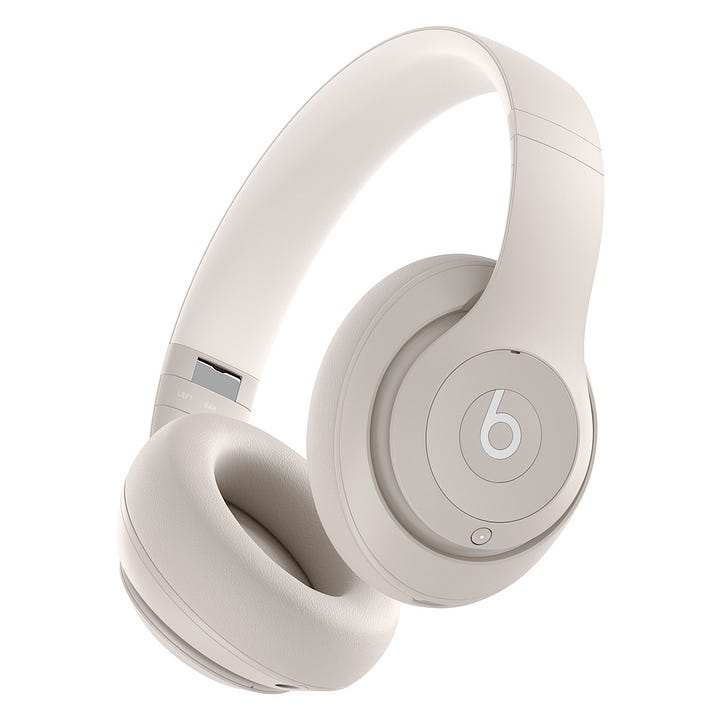 The Studio Pros are no different. Beats souped them up with the same round of Android fixings as its earbuds, and they pair directly with the Beats app for customizing the sound and keeping the software updated. There's even a USB-C port for charging, so you can use the same cable to charge both your headphones and your phone. (Rumor has it iPhone fans will have that same luxury come the fall, which is likely one of the reasons Beats included the port here.)
Of course, they're also heavy on the iPhone features as well. There's one-touch pairing for iOS devices, multi-device pairing through iCloud, "Hey Siri" support, and Find My integration. For the first time with over-ear Beats headphones, the Studio Pros also support Spatial Audio with head tracking, although I'm not sure if it's exclusive to Apple devices (I'm reaching out to Beats about that as I type this post).
All of this is to say that no matter what device you have, the Studio Pros are asking to be paired to it. That's important when your competition is the Sony XM5s, Bose NCH 700, and Sennheiser Momentum 4. Even if you don't want to use Bluetooth, you can listen to music over USB-C. Beats even includes a 3.5mm headphone jack for analog listening. There's truly no shortage of ways to use these headphones to hear things.
Being their first over-ear headphones in six years, Beats is making plenty of meaningful quality improvements as well. There are new custom 40mm drivers that deliver "near-zero distortion even at high volume," according to the company. Sound quality has been improved by 80 percent compared to the Studio 3s, while the new digital processor powering the headphones (a custom piece of Beats silicon, not an Apple H chip) is optimized for a "powerful, yet balanced sound profile."
Active noise canceling (or ANC) is also included on the Studio Pros. The headphones can continuously monitor external sounds and adjust noise cancellation accordingly. You also get a Transparency mode for times when you want to tune into external sounds.
Beats says it improved the microphones on the Studio Pros for better voice clarity and reduced background noise. They're about 27 percent better than what the Studio 3s had. In addition, the headphones should last up to 40 hours on a full charge and up to 24 hours when using ANC or transparency.
The design hasn't changed very much compared to past pairs of Beats headphones, but the Studio Pros do get new "UltraPlush" ear cushions for improved comfort. The head band has metal sliders for a premium touch, and Beats says they have "exceptional durability," whatever that means. You can get them in Black, Navy, Deep Brown, or Sandstone.
I've read a few reviews on the Studio Pros (linked below), and they seem like an incredibly solid pair of cans. In the context of the premium headphone market, they seem to really shine when it comes to ANC and sound quality, which help justify their $349.99 price point. By all accounts, it seems the Beats brand is back in the over-ear headphone space, giving you a fresh alternative to the Sonys and Boses of the world.
I'm working on getting a pair myself to review, so stay tuned. In the meantime, check out some of the reviews I've been reading.
---
More stuff
I'm incredibly lukewarm on Threads
I feel like the conversation around Threads is kind of exhausting. Instead of being deemed a new community-driven platform from the creators of Instagram, the app has been hailed as the instant "Twitter killer" and the politically correct place to have meaningful conversations instead of the digital wasteland of Elon Musk's platform.
People cheer for its success (100 million users in the first few days is no small feat), people cheer for its downfall (half of the active users on the platform have reportedly gone silent), and it's all incredibly tiring.
I was going to write a newsletter with my impressions of the app, but I honestly don't have any. It just feels like a barebones version of Twitter right now, which isn't great. I haven't touched it in a few days, and I feel no incentive to use it.
That might change as time progresses. I think Threads needs time to cook before we deem it the ultimate successor to Twitter or a failed experiment from the minds of Meta. I'll update you as my feelings toward it evolve.
I unapologetically love the Nothing Phone (2)
Shortly after I published my hands-on piece with it, my review of the Nothing Phone (2) went live on CNN Underscored. For any of you who missed it, I truly love this smartphone. It checks so many boxes that you'd think it was from a company that's been around for decades, not just a few years. I love how much fun the Glyph Interface is, the cameras are good enough for general use, the battery lasts forever, and the software is zippy and responsive.
All of that for $599? I'll take it.
Nomad resurrects a fan-favorite accessory
Remember the ChargeKey? It was one of Nomad's first accessories it ever shipped, giving you a miniature charging cable that hangs conveniently from your key ring. The first model dates back 10 whole years, and now, it's being resurrected for 2023.
Keeping the same name as before, the ChargeKey is available in both Lighting to USB-C and USB-C to USB-C flavors. I was sent the dual USB-C model, and I can already tell it's going to be a staple of my everyday carry. It offers a heavy-duty metal enclosure with a nylon-braided cable, and the two ends attach via magnets so they don't dangle from your keys. It supports up to 60W fast charging and 20W if you opt for the Lightning model. The only real downside are the USB 2.0 data transfer speeds.
For $25 (or $35 for Lightning), the ChargeKey is a sweet deal for an accessory anyone regularly carrying multiple devices will find tremendously convenient. It's on sale now on Nomad's website.
Thanks for reading Legendary Scoop! Subscribe for free to receive new posts and support my work.