Discover more from Legendary Scoop
Tech and gadget news through editorials, reviews, and sporadic essays. From the mind of Max Buondonno.
Sounds like the Beats Studio Pro are right around the corner
The new Studio Pro headphones have leaked, and it looks like they'll be a major upgrade in every way.
Do you still use Beats?
I see a lot of people with Beats-branded earbuds nowadays, namely the Beats Fit Pro and Studio Buds. But compared to a few years ago, there seems to be far fewer over-ear Beats headphones out in public, which were once the company's signature product. I assume that's because Beats hasn't put out a pair of proper cans in over five years, and everyone has moved on to brands like Sony and Bose for their over-ear needs.
Thanks for reading Legendary Scoop! Subscribe for free to receive new posts and support my work.
Still, it doesn't look like Beats is exclusively moving to the earbud market any time soon. The company is expected to release a successor to the Beats Studio 3 headphones in the near future, and 9to5Mac is giving everyone a sneak peek at what to expect.
Cue the kids adding "Beats Studio Pro" to their wishlists this holiday season.
The next Beats, reportedly called the Beats Studio Pro, will look like a lot of Beats have in the past: soft foam cups, an adjustable headband with a silicon interior, and what will likely be a tight fit on your head. Chance Miller, author of the piece on 9to5Mac that reveals new details about the headphones, shared these renders of the Studio Pro, and yep, it checks out: these are, in fact, Beats headphones.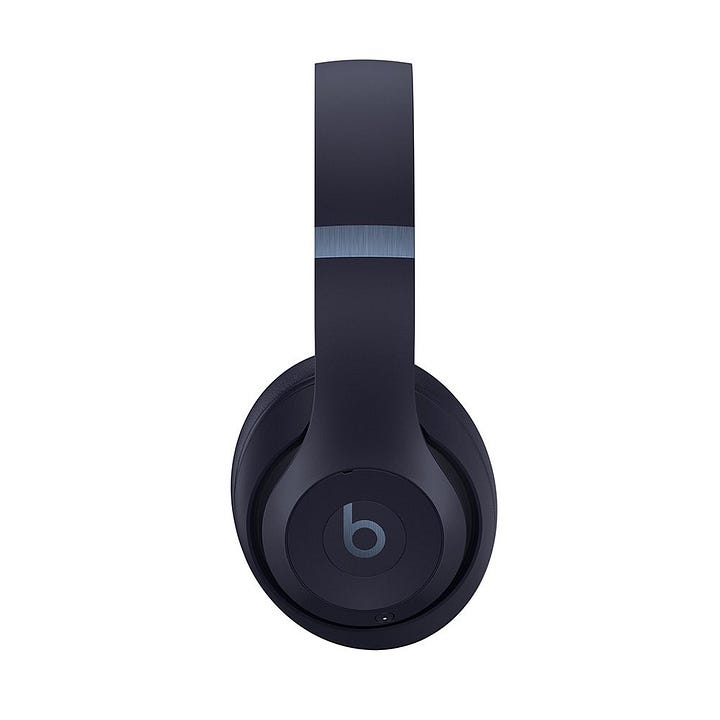 All of the biggest changes can be found on the inside. According to 9to5Mac, the headphones will have vastly improved audio quality (apparently up to 80 percent) over the Beats Studio 3 thanks to two new custom 40mm drivers. The new drivers will reduce distortion by a significant amount; Beats claims the cans will have "near-zero distortion even at high volume." There will also be a new processor that "optimizes the final frequency response for a powerful, yet balanced sound profile crafted to bring out the subtle details of whatever you're listening to." I have no clue if that means the sound profile will still be as bass-heavy as ever, but here's to hoping it isn't.
There will also be a slew of modern headphone technologies onboard. That includes active noise cancellation, a transparency mode, and Spatial Audio with head tracking. Oddly enough, Beats isn't including an Apple H-series chipset to power it all; instead, there will be some sort of custom Beats chip.
The reason? These headphones will be designed for cross-platform usage.
The H2 chip, Apple's latest in-house headphones processor, works like a charm when you pair it with another Apple device, but is essentially ignored if you pair it with something like an Android device. It's not compatible with features like Google Fast Pair, multi-device pairing, the Google Assistant, or even gesture customization. You're stuck with a very basic listening experience that, in all honesty, can be matched by almost any pair of wireless headphones under $50.
The Beats chip inside the Studio Pro will do the opposite. Not only will it support smart features on Apple devices—like "Hey Siri" support, Find My integration, and one-touch pairing with your iCloud account—but also features on Android like Fast Pair, Find My Device, and Audio Switch between devices synced with your Google account. They'll integrate directly with the Beats app for Android that'll let you customize the buttons on the side of the ear cup, update the headphones' software, and more.
Beats has been very good about supporting Android devices for years now, so it's cool to see the Studio Pro headphones get the same treatment.
It also looks like battery life will be pretty good on these headphones. 9to5Mac reports that they'll last up to 24 hours with ANC or transparency on, and up to 40 hours with either feature turned off. For context, the AirPods Max last up to 20 hours with ANC on, while the Studio 3 lasted up to 22 hours. In addition, the Studio Pro headphones will feature Fast Fuel, which can give you four hours of listening time after 10 minutes of being plugged in.
Speaking of which, there's another big change coming to these new Beats: a USB-C port. The Studio 3 came with a micro-USB port which, to be frank, was out of date when these headphones originally shipped in 2017, so this is a nice upgrade. The new port will not only give you faster charging, but also the ability to listen to music over a USB-C cable connected to your phone. (That leaves Lightning-equipped iPhone users in the dust, but here's to hoping that finally changes this year.)
As an added bonus, the Studio Pro will come with a 3.5mm headphone jack and even a 3.5mm cable in the box. Beats is definitely going for maximum compatibility with these headphones, and I'm here for it.
Some final tidbits: the mics will be improved for better clarity over phone calls, there will be three distinct sound profiles when listening to music over USB-C ("Beats Signature"," "Entertainment," and "Conversation" for phone calls and podcasts), they'll weigh 260 grams (9.17 oz), and they'll ship in four colors: black, navy, sandstone, and deep brown.
---
I think these headphones could become very popular very quickly. Not only will they work with all your stuff—regardless of the platform you use—but they'll also be priced competitively; at $349, they'll go toe-to-toe with the Bose NCH 700, Sony WH-1000XM5, and Sennheiser Momentum 4 with competitive battery life, all the smart features you could want, and that signature Beats look.
They're expected to launch on July 19th, at least according to 9to5Mac, which will give them enough time on the market to receive plenty of discounts come the holiday shopping season. If they get marked down $50-$100, they could be quite the steal. We'll just have to wait and see how good they actually are.
I'm excited to get my hands on them when they drop, so stay tuned for my thoughts.
Thanks for reading Legendary Scoop! Subscribe for free to receive new posts and support my work.