Discover more from Legendary Scoop
Tech and gadget news through editorials, reviews, and sporadic essays. From the mind of Max Buondonno.
Cheaper folding phones are here... sort of
The Moto Razr and OnePlus Open signal a shift in pricing for folding phones, and they're surprisingly good.
This week, I reviewed the new Motorola Razr and OnePlus Open, two smartphones that each fold in half and expand the range of foldables that North American customers have access to. Long gone are the days when the only bendable phones you could buy were ones with Samsung logos; now, we have flexible phones from Samsung, Google, Motorola, and OnePlus.
Of course, this only matters if each foldable does something to stand out from the pack. And so far, they have. Each manufacturer has a different design language, different priorities when it comes to features, and different software features to take advantage of their unique hardware.
Legendary Scoop is a reader-supported publication. To receive new posts and support my work, consider becoming a free or paid subscriber.
But only two companies seem to be making a conscience effort in one key area: the price. The Open and Razr are both considerably cheaper than their categorical rivals, which is a big step toward making foldables a mainstream product instead of a specialty item only the most enthusiastic smartphone users will appreciate.
Granted, the prices aren't that much lower. The Open is $1,699 (or $1,499 with the trade-in of any smartphone through OnePlus.com), while the Razr is priced at $699. That's a range of $100-$300 less than what you'd pay for a Pixel Fold or Galaxy Z Flip 5. But not only is it nice to be able to save a few bucks if you want a folding phone, it's nicer—and more important—to know that we've reached the point where companies are becoming more aggressive about lowering the price of foldables, which have largely cost the same extravagant amounts of money since their inception over four years ago.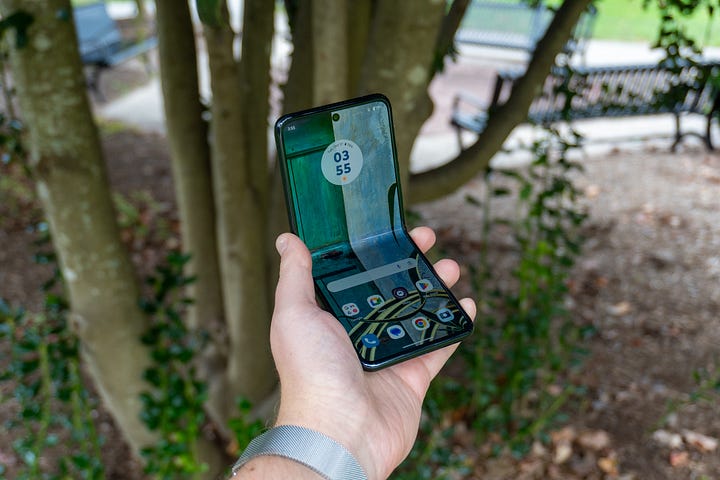 To get the price down, both brands had to make some sacrifices, and the Razr makes the most by far. It shares a lot of similarities with the more expensive Razr+ like its hinge, 6.9-inch AMOLED screen (although it's a little dimmer and has a slightly slower refresh rate), 8GB of RAM, and charging speeds. There are even some advantages the Razr has over its pricier sibling like a bigger battery and a more durable design (vegan leather won't crack like glass).
But look elsewhere, and it's easy to see where Motorola cut corners to drive the price down. The most obvious is the cover screen, which is significantly smaller than the one on the Razr+. It gives you basic functionality like notification management, the weather, your calendar, music controls, and a stopwatch. By contrast, it's much more dated than what the Razr+ and Z Flip 5 have, but like older flip phones, you can learn to live with it.
The Razr is also slower than the Razr+ thanks to the Snapdragon 7 Gen 1 processor. It's not terrible, but the difference is very noticeable when using them side-by-side. You also get considerably worse cameras; while the main 64MP sensor might be higher resolution than the 12MP sensor on the Razr+, photos take a step down in quality and processing, leaving much to be desired in virtually every lighting condition.
But with multi-day battery life, a good-looking design, and an IP52 certification for dust and splash resistance, the Razr is the quintessential baisc Android phone that happens to fold in half. And if all you want is a phone that can fold in half (and don't mind living with subpar cameras and a tiny cover screen), the Razr might be worth a look.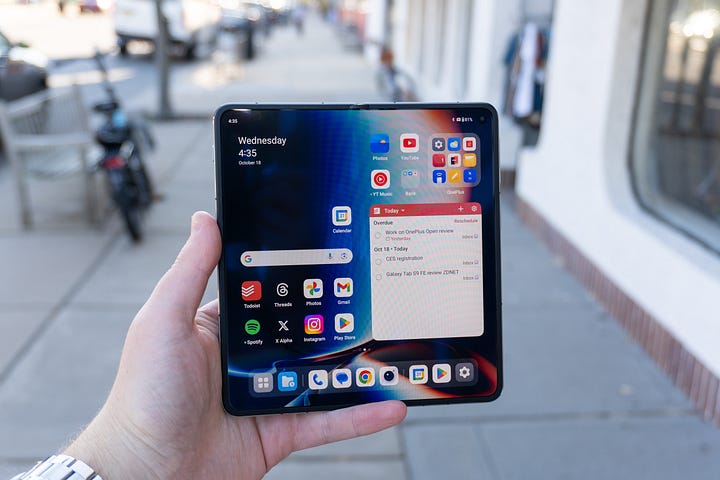 On the other hand, there's the OnePlus Open, which challenges the high-end of the folding phone market with a compelling package that almost makes no sacrifices at all, yet still costs less. OnePlus has done this before; it used to be famous for making flagship phones at mid-range prices, and while the Open is by no means priced like a mid-ranger, that same philosophy carries over to their first foldable, at least to some extent.
You really wouldn't notice you were missing anything on the Open in spite of its lower price. The 7.82-inch folding display is beautiful with the smallest crease I've ever seen on a foldable, while the 6.31-inch cover screen has a great aspect ratio that sits somewhere between the Galaxy Z Fold 5 and Pixel Fold. Performance is off the charts thanks to the Snapdragon 8 Gen 2 and 16GB of RAM, and OxygenOS' new Open Canvas feature may just be the best implementation of multitasking I've ever seen on an Android device.
The cameras are also surprisingly solid. With great hardware and solid processing, photos look great in daylight and perfectly serviceable at nighttime. You would, of course, hope that these cameras were half-decent given the size of the camera bump on the back, and luckily, OnePlus delivers.
It's also really thin and light, which I wasn't expecting from this phone. Take a quick glance at it and you'd think the industrial flat sides and shiny edges meant the Open weighed almost 300 grams, but on the contrary, it's only 239 grams (or 245 grams if you get the version with a vegan leather back). It's just as comfortable to hold as any other large-format smartphone, and the slim form factor means it feels like holding the OLED panel itself when it's open.
So what's missing from this phone that helped OnePlus drive down the price? Wireless charging, for one thing, which a lot of my friends in the tech media have been complaining about since the embargo lifted on reviews. Is it a bad decision on OnePlus' part? Yes. Is their "focus" on fast wired charging a bad excuse for not including wireless charging? Absolutely. But I know there are plenty of people who never use wireless charging and will be perfectly fine with the 67W charger that's included in the box, so it's kind of up to you to decide whether it's a dealbreaker.
The Open also got an IPX4 certification, which means it has no official dirt protection and very little water resistance. If you watch MrMobile's deep dive into the durability of the device (which I highly recommend), you'll see that the Open can survive quite a bit before konking out. There's a chance the Open could've earned a better IP rating, but it would've cost OnePlus more money to get it.
You also don't get mmWave 5G on the Open. I've seen companies charge a $10 premium at certain carriers to get mmWave, so it makes sense to see OnePlus leave it out here (especially since it's still very scarce throughout the country).
Other than that, the OnePlus Open is a very complete-feeling foldable, a lot moreso than the Razr does. And as long as you trade in a phone when you order, it'll only cost you $1,499, which is a big deal for the foldable market.
The Moto Razr may sacrifice more features than the OnePlus Open to drive down its price, but at $700, it's really hard to argue with the value you get. In a similar way, saving any money you can on a big-screen foldable is nice, and with the Open's lower-than-average starting price, I can see a lot of people considering it if they don't want to spend over $1,800.
For the first two folding phones conscience about their cost, Motorola and OnePlus have done a good job at focusig on the right features and creating a well-rounded experience. As time progresses, we'll see even more aggressive options pop up with more features, better durability, and nicer designs. Until then, these are two solid options if you're in the market for your first—or next—foldable smartphone.
Legendary Scoop is a reader-supported publication. To receive new posts and support my work, consider becoming a free or paid subscriber.