Discover more from Legendary Scoop
Tech and gadget news through editorials, reviews, and sporadic essays. From the mind of Max Buondonno.
Motorola's new Razr Plus takes the fight to Samsung
The $999 Razr Plus is a compelling alternative to the Galaxy Z Flip 4, complete with a huge cover screen.
No, this isn't a leaked render. What you're looking at is an actual photo of the new Motorola Razr Plus, Moto's latest folding phone that comes just shy of a year after the third-generation Razr was released in China. It's the first time Motorola has given one of its Razr phones an "upgraded version" moniker; for 2023, the company is releasing both a normal Razr and the Razr Plus, with the biggest difference being their cover screens.
The Razr Plus (known as the Razr 40 Ultra in Europe) is launching first, with a release date of June 23rd in North America (preorders start June 16th). It'll be sold through Best Buy, Amazon, and Motorola's website unlocked as well as through AT&T, T-Mobile, Spectrum Mobile, Google Fi Wireless, and Optimum Mobile. Meanwhile, the Razr will arrive later this year, although it's unclear exactly when. You'll get to buy each of them in three colors: the Razr Plus ships in Infinite Black, Glacier Blue (my personal favorite), and Viva Magenta (a T-Mobile exclusive in the U.S.), while the regular Razr comes in Sage Green, Summer Lilac, and Vanilla Cream.
I got to spend some time playing with both devices, and I was most impressed with the Razr Plus. In the ever-growing foldable smartphone market, this phone has the potential to be a stand-out hit. Its big cover screen, solid specs, and $999.99 price point means it's going to compete heavily with the Galaxy Z Flip 4 in ways we haven't seen before, from durability to sheer usefulness.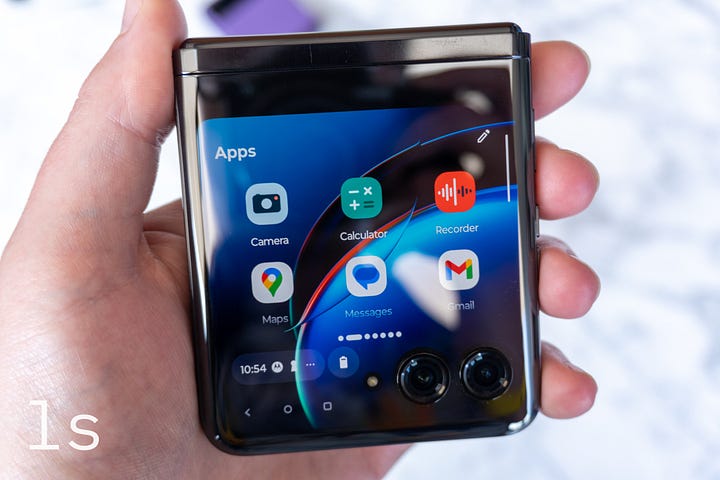 That big cover screen looks totally fake with the camera holes in the bottom corner, but believe me, it's real. The Razr Plus has a 3.6-inch P-OLED cover display that, according to Motorola, is the largest on the market for a flip phone of this caliber. I believe them; I've never seen a cover screen this big before, let alone one that includes hole-punch cutouts for the camera system.
It's larger than the 2.7-inch display on the previous Razr, and it dwarfs the 1.9-inch cover screen of the Z Flip 4. Obviously, one would assume that such an expansive cover display could unlock new capabilities, and you'd be right.
Motorola is packing a lot into this display, including support for full-fledged apps and keyboard layouts. This is a feature many users of the Z Flip series yearn for, and it gives the Razr Plus a huge advantage over the competition.
Everything you do on the cover display feels spacious enough that you won't get annoyed or feel cramped. I opened Gmail, Maps, and a few other apps during my time with the phone, and they ran well. It's far from the smallest display in the world, and for a cover screen, it's wildly useful.
Of course, you just have to hope that the apps you want to use on it work well enough to not get on your nerves. Motorola told reporters that while it's not a necessity for developers to optimize apps for the cover display (any app that can run in landscape mode is basically supported), some apps might run into layout issues or have their buttons blocked by the rear cameras. To help with that, Motorola will block out the camera section of the display with a black bar by default, while giving you the option to expand behind the camera system if you want. This will keep all of your app's contents in a controlled space, but it means you won't get to enjoy the entire panel.
When it's time to use the internal display, you can simply open the Razr Plus and the app you were using on the cover screen will carry over. This also works in reverse; if you close the device while an app is open, a button will appear asking if you'd like to continue on the smaller panel.
Obviously, apps aren't the only thing you can interact with on the cover screen. Motorola gives you up to nine custom panels you can configure with widgets, shortcuts, and more. The clock face syncs with the design of your lock screen, but you can also tweak each of them individually. There's also a few neat camera tricks that are synonymous with flipping foldables: the cover screen can be used as a viewfinder for better selfies and subject positioning, you can bend the screen and prop up the selfie camera like a tripod, and you can bend it and hold it sideways in a retro camcorder-style mode.
You can also play games on the cover screen. Basic titles work pretty well, while those more complicated will be better suited on the internal display. I played a few and had a lot of fun.
The cover screen may be the marquee feature of the Razr Plus, but its design is also an attention grabber. At 15.1mm when closed, Motorola says it's the thinnest flip phone around, even thinner than the 15.9mm Z Flip 4. It's made of aircraft-grade aluminum with Corning Gorilla Glass Victus on the front and back. It's rated for IP52 water and dust resistance which, admittedly, isn't very strong compared to other smartphones, but for a folding phone, it's wildly durable. Dust and other small particles will have a tougher time breaking it, and it'll withstand it all better than the IPX8-rated Z Flip 4 (although that phone has the Razr beat in water resistance).
Motorola says it redesigned the hinge on its new Razrs so they're smoother and can shut a little flatter. Well, to be accurate, they said the Razrs can shut completely flat, but when I went hands-on with them, I noticed a miniature gap between the screen at the hinge. Mind you, it's far from noticeable in everyday use, but it defeats their claim of "completely flat."
The hinge also remains incapable of stopping wherever you want. The Razr and Razr Plus support angles from 45 degrees to 135 degrees which, depending on what you're doing, doesn't give you a ton of flexibility. Samsung lets you prop the Z Flip 4 to whatever angle you want, so it's odd that Motorola doesn't support that here.
Opening the device reveals a 6.9-inch P-OLED display with a 22:9 aspect ratio and a 2640x1080 resolution. It's a good-looking panel, especially thanks to its 165Hz refresh rate and 1,400 nits of peak brightness. The crease from the hinge is still there and can be seen in the right lighting, but I will say, it didn't feel as noticeable as other folding phones I've tried.
It is pretty tall, though. You'll undoubtedly be using two hands with this phone more often than you might think.
You might be wondering where the chin is. It's an iconic part of the Razr brand's history, and it was carried over to the first few foldable Razrs to hit the market. Motorola says it got rid of it simply to achieve that borderless look on the internal display. It's a jarring difference when you compare it to older Razrs, but in the grand scheme of things, it's totally fine.
Under the hood sits a Snapdragon 8 Plus Gen 1 processor. It's not the latest and greatest from Qualcomm, but it'll still deliver solid performance. It's paired with 8GB of LPDR5 RAM and 256GB of UFS 3.1 storage.
The battery weighs in at 3,800mAh which is slightly larger than the Z Flip 4's 3,700mAh cell. Motorola includes 30W wired charging and 5W wireless charging to juice back up—not the fastest by today's standards, but it's something.
The cameras are a big focus for Motorola with the Razr Plus. The company sees this device as being an ideal companion for creators, so it's including a 12MP f/1.5 main camera paired with a 13MP ultra-wide f/2.2 lens with a 108-degree field of view. There's also a 32MP selfie camera with an f/2.4 aperture.
It's no secret that Motorola has never been the king of smartphone cameras, so its bold claims of the Razr Plus' ability to capture content better than other phones seem pretty bold. I get that the form factor plays a large part in that, but I tend to focus more on the quality of each photo and video rather than how I take it. I'll be looking closely into the camera's quality during my full review.
In the meantime, know that Motorola wants people to care noticeably more about the cameras on the Razr Plus than past Razrs. Whether they can pull off any major quality improvements over the competition remains to be seen.
Motorola also touted the Dolby Atmos-equipped stereo speakers on the Razr Plus. And as you can imagine with such a slim form factor, they aren't that good; I played some Morgan Wallen at a high volume and they sounded tinny, at least to me. I'll dive deeper once I get my hands on a review unit.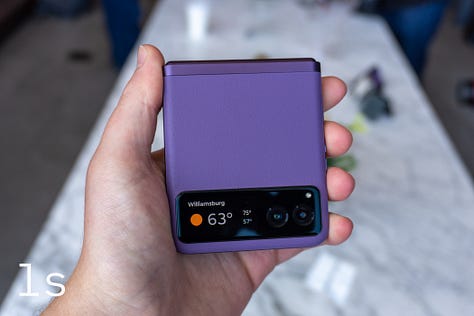 The regular Razr's upgrades are less impressive than the ones the Razr Plus are getting, but they're solid nonetheless. You get the same 6.9-inch Full HD+ display, but its refresh rate sits at 144Hz instead of 165Hz. That's due to the change in chipset; instead of a Snapdragon 8 series processor, Motorola includes a Snapdragon 7 Gen 1 which doesn't support faster refresh rates than 144Hz. Mind you, that's not a big deal at all considering 144Hz is faster than most flagship phones.
The cover screen is far smaller on the normal Razr. It's 1.5 inches in size and uses an AMOLED 60Hz panel. It's not a bad screen to look at, but it's very tiny. You can't do anything but interact with widgets and see notifications come in. Motorola thinks this could be good for "digital minimalists," so we'll see what happens.
On the back are a 64MP f/1.7 main camera and 13MP f/2.2 ultra-wide with a 120-degree field of view. If you've been keeping up, you'll notice that these specs seem better than the ones associated with the Razr Plus. Motorola stressed that the cameras on the more premium device will still be better, but I'm not sure how you can define a wider ultra-wide as being worse than a narrower one, especially since they share the same megapixel count. The selfie camera is still 32MP, for anyone wondering.
Oh, and the battery's bigger. It's 4,200mAh on the standard Razr with the same 30W wired charging and 5W fast charging. To me, that's a little strange, but so it goes.
The design isn't much different compared to the Razr Plus, but Motorola did make it stand out in certain ways, including with a vegan leather finish on all three color options. It adds a really nice grip to the device that you'll only find on one color variant of the Razr Plus (Viva Magenta, in case you're curious), and I'm here for it. The side rails are also aircraft-grade aluminum but have a matte finish instead of glossy.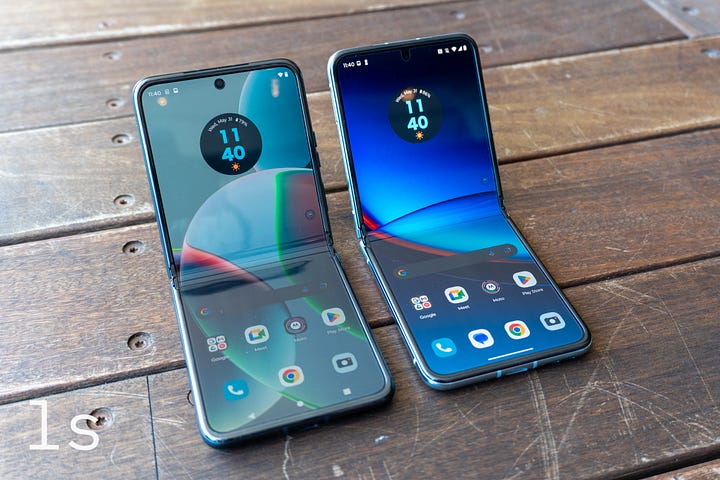 Next to the Razr Plus, the Razr looks cheaper, and that's because it will be. Motorola said the phone will be "meaningfully" less expensive than the Razr Plus, which means it's going to cost well under $1,000. That sounds like an incredible value proposition for anyone who's on the fence about buying a folding phone, and it could help bolster Motorola's sales whenever it hits the market.
Both the Razr and Razr Plus ship with Android 13 out of the box with Motorola's custom additions (e.g. the Moto app, special shortcuts, Ready For, and some UI tweaks). Each device will get three major OS upgrades and four years of security updates. That's one to two years shy of what other manufacturers are doing, but it's still a good amount of updates nonetheless.
You'll also find sub-6GHz 5G on each Razr, with no mmWave support whatsoever. Luckily, there's support for C-band so you should get pretty decent speeds (assuming you live somewhere that C-band has been deployed).
I left my briefing with Motorola very impressed with the Razr Plus. I thought the cover screen was capable enough that it could sway people from buying Samsung's Z Flip 4 for that reason alone. Plus, it's decently priced and will likely be regularly discounted by carriers.
Of course, the standard Razr could be the real hit here. A flip phone with good specs, a nice screen, and priced considerably cheaper than Samsung's phone? That sounds like a hit, at least on paper.
This is probably the most hopeful I've been for a pair of Moto phones in years. Let's just hope they can deliver on their promises.
Update: An earlier version of this story stated that the Galaxy Z Flip 4 had an IP68 certification. That was incorrect, and I've updated the story accordingly. I apologize for the error.