Discover more from Legendary Scoop
Tech and gadget news through editorials, reviews, and sporadic essays. From the mind of Max Buondonno.
Lenovo and Motorola roll up at MWC 2023
Welcome to yet another huge tech conference, complete with rolling phones and laptops.
It's time for another tech conference!
This time around, it's Mobile World Congress in Barcelona. If you're unaware, MWC (as it's commonly referred to as) is similar to CES in that it serves a stage for companies to show off their newest technologies (primarily in the mobile sector of the market) in front of investors, industry peers, journalists, and enthusiasts. It's been on and off since the pandemic kicked in, but this year, it's being hosted entirely in-person in Barcelona, Spain.
Legendary Scoop is a reader-supported publication. To receive new posts and support my work, consider becoming a free or paid subscriber.
I'm not there, in case you were wondering. I'm covering the show how I've done for the past 7+ years: from the comfort of my home, at my personal desk, sipping a cup of coffee (or, at the time of writing, a refreshing Landshark).
I'll be covering the show all week here on Substack, with a bit of my coverage extending to Matridox. If you want to make sure you see everything I cover, subscribe and you won't miss a thing. I'm also rebuilding my paid subscription tier with more content, so keep your eyes peeled for that.
Okay, let's get to what this newsletter is actually about: laptops and smartphones.
---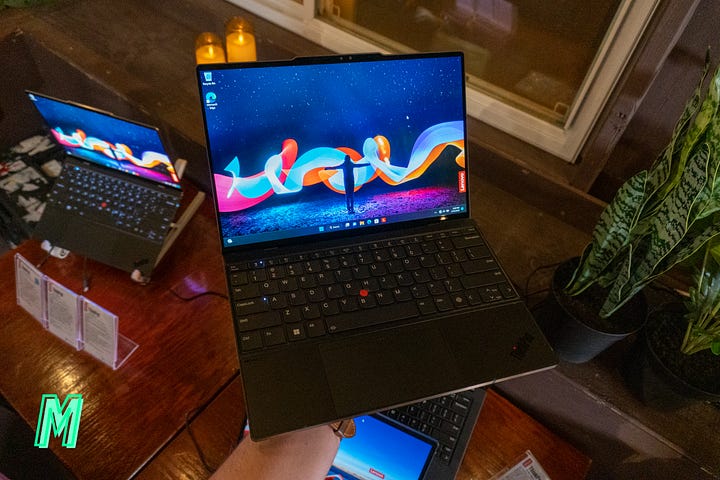 A couple of weeks ago, Lenovo invited me to New York City for a briefing on their newest devices debuting at MWC. I wasn't really sure what to expect beyond "Tapas and Laptopas" (as the event was dubbed), and as it turned out, that's exactly what we got: plenty of tapas (which were quite tasty) and lots of laptop(a)s.
Mind you, what I saw were all spec bumps. A couple of totally new laptops were unveiled, but they weren't much to obsess over. The biggest crowd-draws were the new ThinkPad Z13 and Z16 devices, which come with upgraded specs and a new "Flax Fiber" design.
That design is meant to be more sustainable and environmentally friendly, according to Lenovo. It covers the lid of the laptop with a woven material that's made from "100 percent agricultural product collected by harvesting flax plant fibers." The result is a look that almost comes off as wood, but a lot more flexible and differently textured. I spent a little time with it and found it to be a great successor to the faux leather on last year's Z13.
I covered both of the new ThinkPad Zs in a separate post, as well as the rest of the new ThinkPad lineup. There's also a couple of new Chromebooks, including the spiffy IdeaPad Duet 3i that works primarily as a tablet and can be paired with a detachable keyboard and stylus. Meanwhile, the IdeaPad Slim 3 Chromebook is a more traditional clamshell with decent specs (including a MediaTek Kompanio 500 series chip, 14-inch touchscreen, and Full HD webcam). Unfortunately, North American customers will only get the Slim 3 Chromebook and not the more versatile Duet 3i. Womp womp.
These weren't the most interesting products, to be perfectly frank. Lenovo saved that for folks who make the trek out to Barcelona.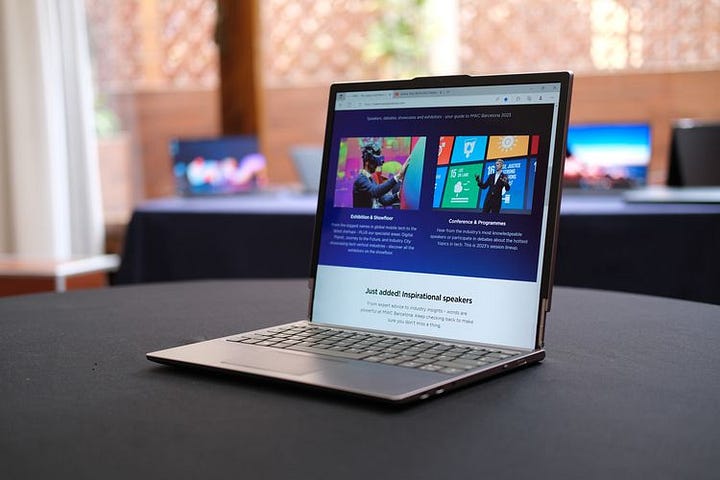 I along with the rest of the journalists at the briefing were told that Lenovo would be teasing something cool in Barcelona, and something cool they definitely teased. The company is showing off its new rollable laptop that can extend its 2024x1604 display to one that's 2024x2368. I've heard that it's essentially the same laptop teased in a product video during Tech World last year, but this time it was put on display for folks to see and play with.
It's just a prototype, mind you, and there's no concrete evidence that Lenovo will actually ship something like it. But you've gotta admit the concept is pretty cool, especially given how thin and light the machine still looks despite its rolling display. I recommend checking out Jon Porter's hands-on piece on The Verge if you want to learn more about it.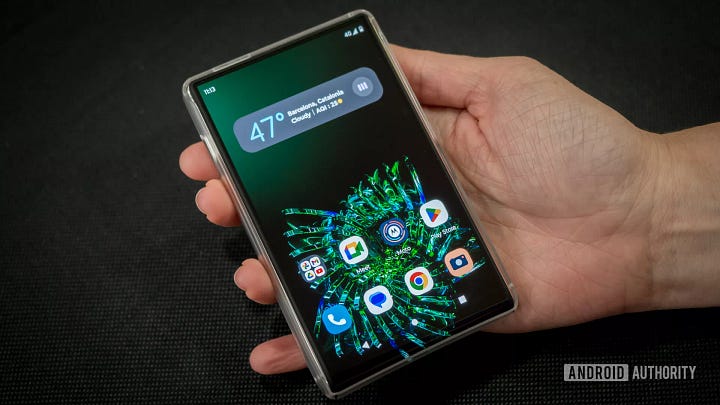 Down the hall at Lenovo's MWC briefings was Motorola, who also had a rollable gadget to show off: the resurrected Motorola RIZR. Okay, technically Motorola isn't referring to it as the RIZR (despite the embossed logo on the casing), but the name perfectly suits the device since it does just that: rise at the push of a button.
Double press one of the side keys and the 5-inch Android phone extends vertically to 6.5-inches with a 22:9 aspect ratio. This means you can have the best of both worlds: a small phone to carry around, and a big phone when you want extra screen real estate.
The screen wraps around to the back of the phone and remains functional with a camera viewfinder, a clock when your phone is face-down, and notification management. The device looks very prototype-y, with a security case wrapped around it, a hidden selfie camera and earpiece that extend from the top of the display when you open an app like Camera or Phone, and software that doesn't seem to be very stable (at least in the videos I've seen of it in action).
There's no telling whether Motorola will actually ship a rollable phone and resurrect the RIZR brand like it did with RAZR and folding phones. For now, it's nothing more than a very interesting concept. I recommend reading Rita El Khoury's hands-on on Android Authority and watching my buddy Michael Fisher's video covering it.
Speaking of concept phones, OnePlus delivered on its promise and announced a new device called the OnePlus 11 Concept. On the outside, it looks like nothing more than a fancy OnePlus 11, and that's really all it is. It doesn't bend, fold, or roll, and there's no crazy camera tech or other high-end internal that hasn't reached the market yet. Instead, the device showcases OnePlus' new "Active CryoFlux" system, which is designed to keep the phone cool while you're using it.
According to OnePlus, the system uses an "industrial-grade piezoelectric ceramic micropump" that continuously keeps liquid flowing through its chambers. The pipelines, sandwiched between an upper and lower diaphragm and found on the back of the phone as well as the camera ring, take up less than 0.2 centimeters so the phone won't be significantly thicker than it otherwise would be. In laboratory tests, OnePlus says Active CryoFlux was responsible for bringing the phone's temperature down during gaming by 2.1 degrees Celsius, as well as boosting frame rates by 3-4 extra frames per second. Charging temperatures also dropped by 1.6 degrees Celsius, which OnePlus says shaves 30-45 seconds from fully recharging the device.
Obviously, the Active CryoFlux system doesn't make a huge difference in day to day performance, but it's cool to look at nonetheless. I have no idea if OnePlus ever plans on shipping a device with this system in tow, but knowing them, they might do it if they simply wake up one day and feel like it.
If you want to see some hands-on time with it, check out Marques Brownlee's video.
Of course, it's not all concepts at MWC. Xiaomi unveiled its flagship Xiaomi 13 Pro handset which will be given a global release (although not one that includes the United States). It has all the high-end specs you could want in a flagship phone - a 6.73-inch AMOLED display, a Snapdragon 8 Gen 2, Android 13, a 4,820mAjh battery with crazy-fast 120W charging, IP68 certification - and some of the most interesting cameras I've seen on a phone. They seem pretty standard on paper, with a trio 50MP main / 12MP ultra-wide / 10MP telephoto setup on the back, but as Sam Byford mentions in his review for Multicore, photo samples feel like they came from a camera with a DSLR body, not a smartphone.
There's also TCL who took the wraps off a few new budget smartphones. The TCL 40 X 5G, 40 XE 5G, and 40 XL share similarly large displays, MediaTek chipsets, and plenty of cameras to go around. They also sport big 5,000mAh batteries. My co-worker Timi Cantisano at XDA has more details on those devices for those curious.
---
MWC 2023 is just beginning, and there will be plenty of fun gadgets to talk about. Be sure to subscribe or share my newsletter with a friend if you want to stay up to date on all the biggest news from the show.
Legendary Scoop is a reader-supported publication. To receive new posts and support my work, consider becoming a free or paid subscriber.