Discover more from Legendary Scoop
Tech and gadget news through editorials, reviews, and sporadic essays. From the mind of Max Buondonno.
OnePlus takes a deep shot at an ecosystem
Will they fumble, or will they score a touchdown?
It's Super Bowl week, which means I'm using football analogies in every way I can. For this article? It's in the context of OnePlus who, this week, revealed its most detailed outlook at what a OnePlus ecosystem looks like.
I was at a watch part in New York City for the company's Cloud 11 keynote, broadcast live from New Delhi. The main focus was on the OnePlus 11 smartphone and OnePlus Buds Pro 2, two devices I've been testing for the past few weeks for CNN Underscored. Since I had already spent a ton of time with them, there wasn't much to learn watching the keynote. However, the company's broader vision was covered during the show, and it seems ambitious, if not a little risky.
Legendary Scoop is a reader-supported publication. To receive new posts and support my work, consider becoming a free or paid subscriber.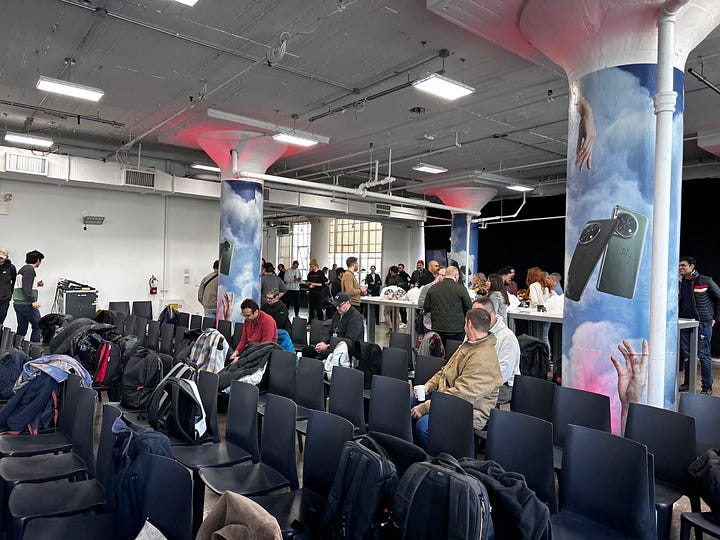 There were two totally new products unveiled at the show: the OnePlus Pad (OnePlus' first tablet) and the OnePlus Keyboard 81 Pro (their first mechanical keyboard). Both products caught the attention of the entire crowd, which promptly led to disappointment since the new gadgets weren't on display at the event. (They're not shipping until April, which I'm assuming is the reason for their absence.)
Nonetheless, they seem like interesting entries in the company's portfolio, rounding out a lineup that signals OnePlus' greatest push for an ecosystem to date.
That's not to say a OnePlus ecosystem doesn't already exist. There are tens of thousands (if not hundreds of thousands) of people around the world devoted to the brand, religiously buying each new smartphone that comes out and collecting each red charging cable along the way. To pair with the handsets, you've got OnePlus earbuds, a OnePlus Watch, OnePlus TVs (in some territories), and even a OnePlus router. Your life can already be run by OnePlus to an extent, and now, the "Never Settle" company wants to take things to the next level.
The OnePlus Pad is their biggest attempt at enticing you to go all-in. It's an Android tablet in a sleek and slim package, designed competitively to Apple's iPad and Samsung's Galaxy Tab line. It has all the specs you'd want in a high-end Android tablet - a Dimensity 9000 processor, up to 12GB of RAM, a 9,510mAh battery with 67W fast charging, OxygenOS based on Android 13, a large rear camera - while also making an effort to stand out.
The 11.6-inch LCD display has an aspect ratio of 7:5, which makes it a little taller than normal 3:2 tablets but not quite as tall as 4:3. It comes with a 144Hz refresh rate, a 2800x2000 resolution, Dolby Vision certification, and 500 nits of brightness. It's a unique concoction of specs that you really won't find anywhere else.
For productivity, OnePlus will ship a special keyboard case and stylus (sold separately, of course) designed for the tablet. I was expecting the company to focus more on entertainment for its first tablet, so I was surprised to see these two accessories make their debut. OnePlus clearly doesn't want the Pad to miss out on any specific use cases.
The tablet will also tie in with your OnePlus phone. It'll let you connect directly to the 5G signal on your phone with an integrated hotspot feature that's faster and more efficient than standard hotspots, similar to how Apple's iPhone hotspot behaves with iPads and MacBooks. Based on images of the device during the presentation, it also seems like the Pad can make and take phone calls, send texts, and sync with the data on your phone using your OnePlus account. It's a pretty solid ploy to keep you in the OnePlus world.
Meanwhile, the Keyboard 81 Pro isn't going to integrate with your phone's 5G, sync your pictures, or anything like that. Instead, it's more of a way for OnePlus to slap its logo on something new, while also recognizing a product category popular among many of its users.
It's a good looking keyboard, one that was designed in conjunction with Keychron (hence Keychron fan's case of déjà vu). It boasts an aluminum body with a steel kickstand for propping it up, a 75 percent laptop-style layout, hot-swappable keys, and a switch for bouncing between Bluetooth and USB connectivity that looks like an alert slider from a OnePlus phone. The key caps are made of "Marble-mallow" which, according to OnePlus, help with both comfort and longevity. It's also fully compatible with macOS, Linux, and Windows.
Obviously, I can't say whether it'll be worth it to ditch your current mechanical keyboard for this one, nor can I tell you everything the OnePlus Pad will do. (I'm expecting to get my hands on both… eventually.) What I can tell you, though, is OnePlus wants to be in more places than on your phone and in your ears. They're taking a deep shot at developing an enticing ecosystem, reducing the market dominance of companies like Apple, Samsung, and Google. The question is whether they can find success in doing it, especially since they'll be targeting one market in particular: North America.
Apple has been the biggest benefactor of an ecosystem in North America, seemingly finding new ways to lock users into their world with every new product release. Samsung has a fan base that's equally as passionate and a product line that, while isn't as tightly integrated as Apple's, still works best when you stay in the Samsung world. Google's ecosystem is far more open; instead of relying on features exclusive to Pixel devices, the company would rather design the nicest products to use and encourage you to buy them.
Each company has their own way of operating an ecosystem, which makes me curious which direction OnePlus will go. Are they going to hammer down on exclusive features that are so good, you'll never leave their world? Or, are they just going to design awesome stuff and make other products feel inferior by comparison?
If it's the latter, I can tell you that they've got some work to do. The OnePlus Watch is widely regarded as one of the worst smartwatches you can buy, while the last few generations of OnePlus smartphones have all had weird quirks that make them tough sells for anyone who wants the best experience. Other devices like their TVs and new router won't be sold in the States, so you'll be limited to four primary device categories: phones, tablets, earbuds, and wearables.
The company also needs to tell the public which they should buy their products. As odd as that sounds, the whole "fast and smooth" and "community-driven" mantras can't carry them forever, especially if OnePlus needs to deliver an entire portfolio of products. Plus, those values are somewhat faded. For the past few years, OnePlus has felt like an ordinary tech company. They had a certain charm back in the day when it was shipping "flagship killers," but now that they've begun shipping the very flagships they sought to destroy, it's hard to find a characteristic within the OnePlus brand that's convincing enough to devote your digital life to devices with "1+" logos on them.
I'll admit, they're getting better. The 11 is easily one of the more well-rounded OnePlus phones I've reviewed recently, and I was pretty shocked with the quality of the Buds Pro 2 compared to other earbuds I've tried. I think OnePlus can find its groove again if it continues to habitually follow what it did back in the day: offer premium mobile experiences for less money than the competition.
If it can do that, I think they've got a fair shot at developing an ecosystem of pleasant-to-use products. Their only issue will be facing the big dogs in a market that, seemingly, hasn't treated OnePlus well in the past. With low phone sales in the U.S. and a general unawareness from the general public, it'll be an uphill battle. Only time will tell if OnePlus can keep fighting.
---
OnePlus 11 Review
OnePlus Buds Pro 2 Review
Legendary Scoop is a reader-supported publication. To receive new posts and support my work, consider becoming a free or paid subscriber.