Discover more from Legendary Scoop
Tech and gadget news through editorials, reviews, and sporadic essays. From the mind of Max Buondonno.
Your Pixel 7 Pro can now get *really* close in videos
Google's latest Feature Drop also upgrades the Assistant, wallpapers, and brings blood oxygen monitoring to Pixel Watch.
There's a new Feature Drop in town. Google has released an update for its Pixel phones and Pixel Watch that include a handful of neat upgrades, including one that'll give your videos a new perspective. The updates are rolling out now and should reach all users in the coming weeks.
Google gave me an early glimpse at the features included in this month's Feature Drop, and most of them are quality-of-life improvements. With the Pixel Watch, we're finally seeing a certain sensor being turned on. Oh, and it's getting a new metal band.
There's even a few updates for Fitbit users, which is really nice to see. (Gotta love it when companies merge!)
---
Here's a breakdown of what's being released, starting with Pixel phones.
Macro Focus in video
Macro Focus, which debuted on the Pixel 7 Pro as a way to take macro photos using the ultra-wide camera, is coming to videos.
The feature works the same way it does when taking a photo: position your phone a couple of centimeters away from a subject to get an up-close look. It can give your videos an entirely new perspective on the world, which I'm very excited to test out.
Hands-free photo capture
If you're using a timer to take a photo, the Pixel can now recognize when you raise your hand in the frame and trigger the timer automatically. This could be helpful if you prop your phone up on a tripod for a group photo or try to get all your friends in the frame for a selfie.
It's rolling out to Pixel phones dating back to the Pixel 6.
Google Assistant safety checks
If you ever feel in danger, you can now ask the Google Assistant to perform a safety check after a set period of time.
For instance, if you're going for a night run, you can say "Hey Google, start a safety check for 30 minutes." Your Pixel will send you a notification after that time, and if you don't respond, it'll notify your emergency contacts and share your real-time location.
It's similar to a feature Apple is shipping in iOS 17 called Check In.
Crash Detection improvements
Also in the safety department, Google is improving its Crash Detection feature on Pixel. Now, if it detects you've been in a crash, it'll automatically alert your emergency contacts and share your location and call status. That's in addition to automatically notifying emergency services.
New wallpapers with 3D and emojis
Google previewed its new 3D and emoji wallpaper features for Pixel during I/O, and instead of shipping them with Android 14, they've decided to release them early.
The 3D effects come from Google's new cinematic wallpapers, which use "AI to transform your 2D wallpaper photos into dynamic 3D scenes for a truly magical look." I have yet to try this, but I imagine it'll look pretty good considering it's Google AI we're talking about.
There's also customizable emoji wallpapers. You can pick many different emojis you'd like to include and customize the pattern they're laid out in. It's another playful addition to the Pixel's already whimsical software experience.
Other features
Updates to Recorder: The Recorder app is getting a handful of improvements, including the ability to export auto-generated transcripts to a Google Doc. You can also generate speaker-labeled video clips for sharing on social media and search for certain speakers within your recordings.

Smart home controls: You can now access a list of your favorite smart home devices from your Pixel's lock screen, as long as you use the Google Home app. The menu is hidden behind a button that pops up near the bottom of your screen.

Smarter haptics for Pixel 7a and 6a: When your phone is sitting on a hard surface, it can get annoying when a notification comes in and sets off the strongest vibration you've ever heard. Higher-end Pixels are already good about limiting the power of their vibration motors when placed on a hard surface, and now, that same capability is rolling out to Pixel 7a and Pixel 6a users.

Adaptive Charging gets an AI boost: The Pixel is getting smarter about how quickly it charges back up when it's plugged in. Google says it'll start learning how long you'll likely have it plugged in based on previous charging sessions and limit its performance accordingly. If it detects a particularly long charging session (such as overnight), it'll stop charging at full speed an hour before you likely unplug it and slowly top it off to 100 percent.
---
Here's what's coming to your Pixel Watch as a part of this Feature Drop.
Blood oxygen monitoring… while you sleep
You might have heard that the Pixel Watch has the necessary sensors to support blood oxygen monitoring, but Google didn't enable it when it launched. Now, many months later, the feature is finally being turned on.
Granted, the feature will only work when you're using the Pixel Watch for sleep tracking, so you can't take an SpO2 reading whenever you're in the mood. However, the extra data you get will help in making adjustments to your everyday life for maximizing the quality of your sleep. This could include limiting alcohol intake before sleeping, adjusting your diet, and increasing physical activity.
Heart rate notifications
Like the Apple Watch and many other smartwatches, the Pixel Watch can finally detect when your heart rate might be irregular, like when it's noticeably high and you aren't working out.
The Pixel Watch is constantly reading your heart rate, so I'm kind of curious why this feature is just now rolling out. I suppose Google has their reasoning.
Auto-pause for workouts
If you begin recording a walk, run, or cycling exercise, your Pixel Watch can now automatically pause it when it detects you've taken a break. Then, when you start moving again, the recording will continue.
Other features
New Spotify Tiles: There are three new Tiles coming to the Pixel Watch for interacting with Spotify. It includes the ability to start a DJ session, play a podcast, or check out what's in your heavy rotation.

Google Assistant gets five new languages: In Wear OS, you can now speak to the Assistant in five new languages including Italian, Portuguese, Swedish, Polish, and Spanish.
---
Google's Feature Drop also includes Fitbit devices. There's a new Exercise menu that will float your most frequent exercises to the top, an easier way to check your Daily Readiness Score, a new menstrual health tile, support for more languages in notifications, four new clock faces (on the Charge 5, Luxe, and Inspire 3), and a new long-press gesture on Sense 2 and Versa 4 for swapping between clock faces.
---
Pixel Watch Metal Link band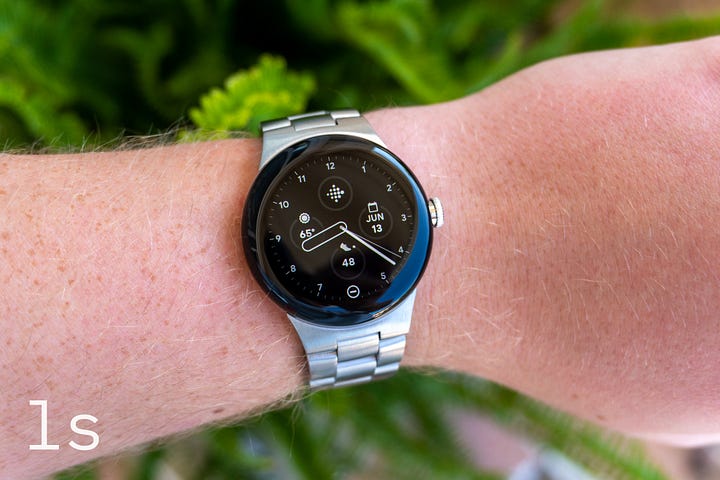 Google is also announcing its new Metal Link band for the Pixel Watch. It launches on June 16th for $199.99, and it comes in Brushed Silver and Matte Black.
I opted for the Brushed Silver since it would match my stainless steel Pixel Watch, and boy do I love it. It's sleek, sophisticated, and feels abundantly premium. It also has one of the easiest lug replacement systems I've ever seen on a metal watch band: just squeeze the lug pins together with the included tweezers, remove the lugs you want, and connect the two loose ends by snapping them together.
Pretty great, right?