Discover more from Legendary Scoop
Tech and gadget news through editorials, reviews, and sporadic essays. From the mind of Max Buondonno.
It's Friday - wanna see the Galaxy Z Flip 5?
Samsung's next foldables leak in high-res press renders.
Welcome back to Friday, everyone. I'm typing this newsletter as a thunderstorm rolls through my area and darkens my home office setup enough where I literally cannot see my keyboard unless its backlight is turned on. Yes, there's a lamp next to me. Yes, the glow from my 27-inch monitor makes my desk visible; I do not care. I love the majestic darkness of a thunderstorm and, when blended with a good cup of coffee and a Spotify playlist of jazz instrumentals, I can't imagine a more perfect environment to get some work done.
This week has been busy as ever in my line of work; now that WWDC is behind us, companies can start announcing things and not get buried by yet another Apple Vision Pro opinion piece. There were a few stories published by my peers that I'd like to highlight, while also shamelessly plugging all of the content I've produced.
Thanks for reading Legendary Scoop! Subscribe for free to receive new posts and support my work.
I'm gonna try to make short, concise roundups like this a weekly thing so you can stay as informed as I am. If you don't see an "It's Friday" subject in your inbox each Friday, tweet me and ask where it is because I might have forgotten.
---
Here's the Galaxy Z Flip 5 and Z Fold 5
As the tail-end of the headline asks, would you be interested in seeing a picture of the Galaxy Z Flip 5?
No, it's not out yet, but it's on its way; Samsung is hosting Galaxy Unpacked in July this year to unveil its next foldables, and we're fully expecting to see a new Galaxy Z Flip and Z Fold at the show.
Two images were recently published by MySmartPrice that put both new devices on full-blast. High-quality press renders were shared by the publication, and in them, we get a clear glimpse at what Samsung's next folding phones will look like.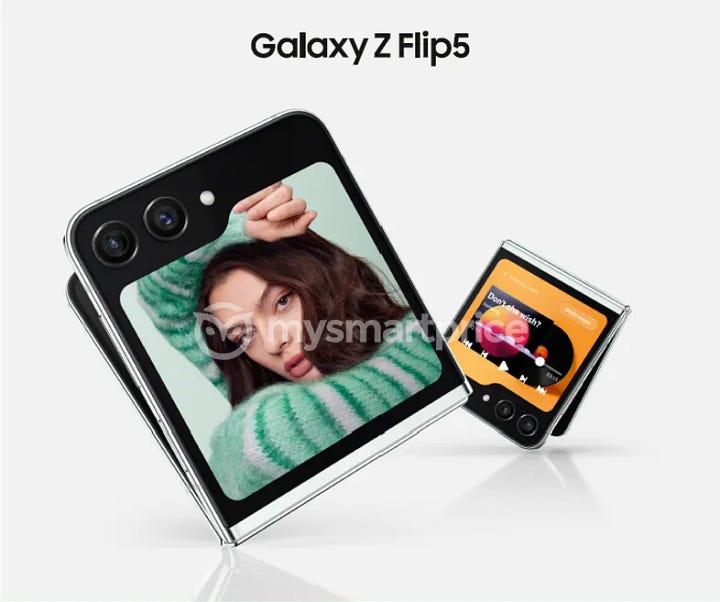 The more interesting device here is the Galaxy Z Flip 5, which is set to come with a much larger cover display than what's been previously available. As you can see, the screen will cover a majority of the front of the device, while remaining away from the cameras and LED flash. That's the opposite of what Motorola did with its Razr+, whose cover screen wraps around the cameras and flash module.
That means the Z Flip 5's display will be slightly smaller at 3.4 inches, compared to the 3.6-inch panel of the Razr+. Of course, you'll likely get all the features of the Razr+ on the Z Filp 5, like full app support (MySmartPrice says Google is optimizing its apps for the display) and better widgets. Is one screen better than the other? I'm not sure yet, but I can already tell I enjoy the look of the Razr+'s more.
We don't get much more information from the image itself, but MySmartPrice resurfaces some of the Z Flip 5's supposed specs in its report. The device will still carry a 6.7-inch Full HD+ AMOLED display inside, as well as a 3,700mAh battery and dual 12MP rear cameras. The chip will be upgraded to a Snapdragon 8 Gen 2 processor and come paired with 8GB of RAM and up to 256GB of storage.
The second image, which shows off the Galaxy Z Fold 5 in all its glory, is pretty boring. The device is expected to largely remain the same in terms of design, carrying things like the flat sides and display sizes from the Z Fold 4. The triple camera array will likely be identical, the 4,400mAh battery will remain the same, and the stereo speakers will also still be here.
One of the only physical differences worth calling out are the slimmer bezels; there's a chance Samsung will shave them down for the Z Fold 5, which goes for both the 6.2-inch cover display and 7.6-inch foldable screen. The dimensions will likely change as a result, giving you a slightly more compact phone in comparison. Mind you, the differences won't be major, but they'll certainly be there.
The chip is expected to be upgraded to the Snapdragon 8 Gen 2 like the Z Flip 5.
One physical change between both the Z Flip 5 and Z Fold 5 will be the hinge. Samsung might switch to a waterdrop-style hinge for both devices, which will reduce the gap between the display and leave a less noticeable crease. The hinge itself will likely be stronger as a result, which can help with durability over the long run.
We don't have long until the Galaxy Z Flip 5 and Z Fold 5 are unveiled. I'll be sure to keep a close eye on any future leaks and let you know if anything major surfaces.
---
Three stories worth reading
This insane interview with Reddit CEO Steve Huffman: Jay Peters at The Verge got to speak with Reddit's CEO about the current controversy surrounding the platform's API changes and how it's dealing with widespread community blackouts in protest. It's… an incredible read, to say the least.

This 15-inch MacBook Air review: My buddy/editor Mike Andronico at CNN Underscored got his hands on the new 15-inch MacBook Air. In case you were wondering, it's a good laptop—so good, in fact, that he only highlights two minor issues with it. I have a feeling this laptop will sell like hotcakes.

This interview with Google's designers on the Pixel Fold: Engadget's Sam Rutherford sat down with two project managers to discuss the thought process behind the Pixel Fold's design. It's a much more different take on a hotdog-style folding phone than what we're used to seeing in the United States, and it's interesting to hear how Google wanted the device to feel as normal as possible while still, y'know, expanding to a mini tablet on command.
---
Shameless plugs
I unboxed the new Moto Razr+ while drinking a margarita:
I reviewed the OnePlus Nord N30 5G for CNN Underscored:
I covered Google's latest Feature Drop for Pixel phones:
---
Okay, time for a margarita. Have a great weekend, everyone!
Thanks for reading Legendary Scoop! Subscribe for free to receive new posts and support my work.