Discover more from Legendary Scoop
Tech and gadget news through editorials, reviews, and sporadic essays. From the mind of Max Buondonno.
Motorola Razr+ review
The $999 Razr+ boasts a huge cover screen, fast performance, and all-day battery life. But is it good enough to ditch Samsung?
Finally, the time has come when if you want a flip phone without a Samsung logo, you have a really solid alternative.
The Razr+, Motorola's latest folding phone, makes a lot of big changes to its fundamental formula to compete in the same ballpark as Samsung. After many years of disappointing entries in its rebooted Razr line of foldables, Motorola has hit something of a home run with the Razr+.
It's had to make a lot of tough decisions along the way, of course, like ditching the Razr's iconic chin and making the entire device feel more generic than instantly-recognizable. But it balances those compromises with trimmer bezels, a much-improved hinge, and an expanded cover display that's so large it stretches behind the two rear cameras.
Coupled with a fast processor, ultra-fast refresh rates, the most versatile app experience on a flip phone cover screen yet, and a $999 price tag, the Razr+ poses a series threat to Samsung's Galaxy Z Flip. In 2023, when the foldable market starts to finally face meaningful development in the U.S., Motorola's effort has paid off in a big way.
This is an excellent flip phone. While by no means perfect (no foldable phone is), it balances its strengths and weaknesses extremely well, so much so that I think it's the phone to get if you're just starting your foldable journey.
Y'know, assuming you can't wait for a Galaxy Z Flip 5.
Cover display
Abundantly useful and far from a distraction
The cover display is the most striking part of the Razr+, if only because of how unusual it looks. It's absolutely massive compared to the rest of the market, with a 3.6-inch panel stretching from corner to corner. It even seeps behind the two rear cameras and LED flash which… is a design choice.
The panel itself is P-OLED with a 1,066x1,056 resolution. Using it, it's easy to forget that it's a 1:1 square, mostly because of the camera cutouts that force all the important content to float above them. I'd also like to highlight the refresh rate: Motorola did not have to include a 144Hz refresh rate on the cover screen, but it did anyway, and I'm forever grateful.
Compared to other flip phones like the Galaxy Z Flip 4 and Oppo Find N2 Flip, the Razr+ has the biggest leg up in terms of size and usability. It's significantly larger than the 1.9-inch display on the Z Flip 4 and bigger than the Find N2 Flip's vertically-mounted 3.26-inch panel. It's also nearly a full inch larger than the already big 2.7-inch cover screen on previous Razr phones. I simply cannot stress it enough: this display is huge.
So what can you do with a screen this big? Turns out, a whole lot. Motorola didn't skimp on the functionality it built in, with the overall experience feeling more like a mini version of your phone instead of an accessory to your phone like a smartwatch.
When you pick it up, you're greeted by a clock. You can customize it to your liking with different colors, fonts, and even widgets. Swipe up, and you'll land on your home screen.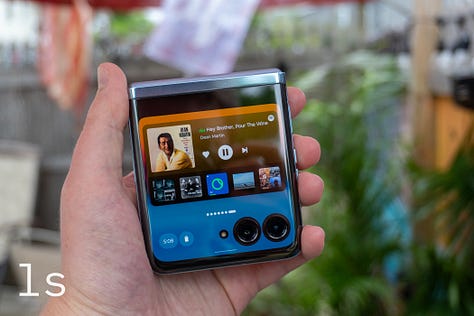 The home screen is made up of customizable panels, similar to other cover screens. Each panel gives you access to certain features like a set of widgets, your calendar, contacts, the weather, and Spotify (which has its own custom widget designed specifically for the Razr+). You've got quick settings in a swipe-down menu at the top, while notifications live in a button in the lower left corner.
There's also another panel that absolutely steals the show: the apps panel.
Motorola lets you run full apps on the display, which can't be said for a lot of flip phones on the market. It's been one of the Razr's defining edges over the years, and on the Razr+, the experience is better than ever.
You can open any app you have installed on your phone, and Motorola's custom software will automatically scale it down. Apps see the screen as though it were a miniature tablet, so any app optimized for tablets will have an easier time shrinking down. Of course, this is Android we're talking about and apps like those are few and far between, so phone apps will simply be shortened.
If you're in an app that requires text input, Motorola includes a full-size keyboard to type on. It's slightly smaller than the keyboard you get with the foldable display, but it's perfectly usable if you need to jot out a quick message. It only works with Gboard, though, so if you're used to a third-party keyboard, you won't be able to use it on the cover screen.
You can also move apps between the cover and folding screens pretty easily. There's an option in the "External display" settings menu that lets you choose whether apps can move from one screen to another. When it's on, you'll be able to close the phone and tap a button to open the last-used app on the cover display, and vice-versa. There's also an option to automatically move the app without the need for a button tap.
Motorola also includes an entire library of bite-size games that have been optimized for the cover display. They're part of GameSnacks, an app with a library of HTML5-powered games that Google developed as part of its Area 120 research program. It's by far one of my favorite features of the cover display, mainly because of how addicting every game is. (Marble Mayhem and Stack Bounce are my favorites, by the way.)
So, are apps any good on the cover display? Yes and no.
A lot of Google's own apps have been optimized to fit on the display, such as Messages, Maps, Gmail, and Chrome. I've also found that apps with minimal UI designs like Todoist and Shazam work really well, as does Wallet and—oddly enough—SiriusXM. You can even open the YouTube app and play videos (I don't recommend it, but it's cool nonetheless).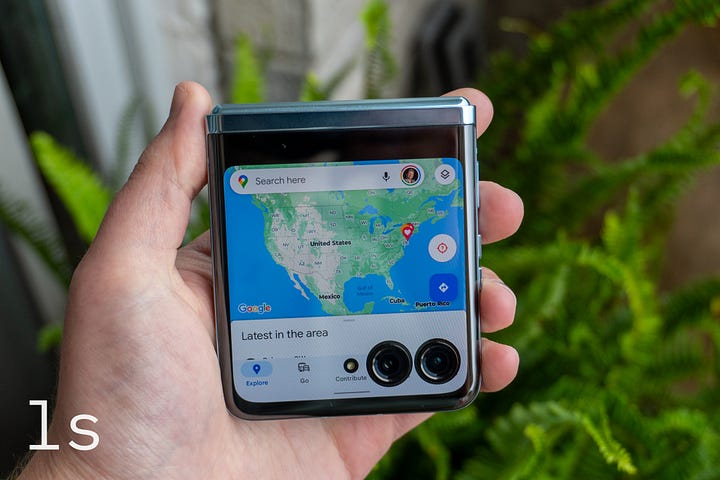 Anything with a dense, more complicated interface will feel incredibly cluttered and useless on the cover screen. I tried running Amazon, LinkedIn, and Wells Fargo and had to immediately close them. There are simply too many buttons in those apps to fit well on the cover screen. It might technically be larger than any other cover screen out there, but it's microscopic by smartphone display standards.
Motorola gives you two different ways to run apps on the cover screen: completely full-screen or floating above the cameras. You can switch between the modes by long-pressing the gesture bar or app-switch button, and any app can be expanded or contracted based on what you pick.
If you want maximum reliability, you'll have to run apps as floating windows above the cameras. While it certainly looks cool to use the entire screen, content is easily blocked by the camera housing and LED flash. A lot of apps use navigation bars, and by running them full-screen, you can lose access to complete feature sets simply because you can't tap the button to access them. That goes for not just third-party apps, but Google's own apps and games as well.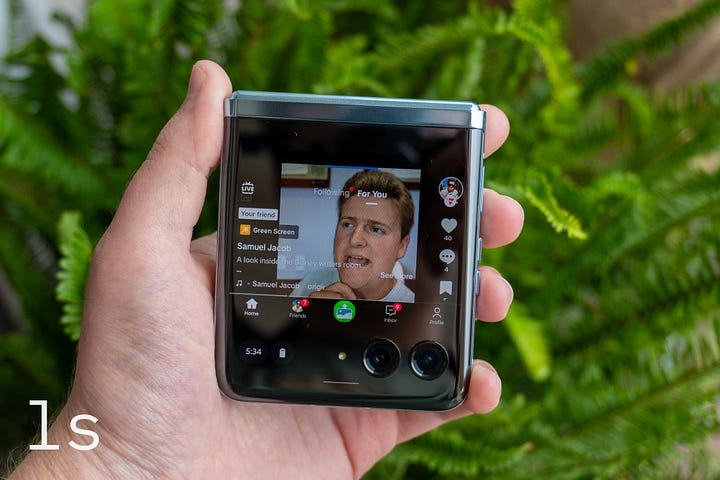 The cover screen is also not the place for content consumption. Like I said, I don't recommend watching YouTube videos, even though it's technically possible. The same goes for TikTok—it just looks ridiculous on this screen.
This creates a sort of stop-gap between quickly doing something on the cover screen and getting lost in endless social media feeds. Many people have questioned whether allowing all apps to run on the larger display would defeat the appeal of closing your phone when you're done so you aren't tempted to open something else and unknowingly waste time.
At least in the case of the Razr+, I've felt no temptation at all to open something like TikTok or Twitter on the cover screen simply because of how bad the experience is. Content is so small that it's not enjoyable, and when I finish whatever I'm doing—like marking things off my to-do list or skipping a song on Spotify—the only temptation I have is to jump into a quick game and play, but even that doesn't last very long.
I get where people are coming from; the larger display goes against the appeal of some other flip phones that try to keep you off your phone when it's closed. But I actually think the Razr+ does a better job at that than people will give it credit for. If I can read a quick email without opening my phone, I'm far less likely to go back to the home screen and open Instagram. The cover screen is good enough to do just that, and because of it, I think it could fundamentally change people's relationships with their phones.
I've also enjoyed the general experience of the cover screen minus the apps. Quickly glancing at my calendar, controlling Spotify, and checking the weather are features I'll miss when I go back to my non-foldable iPhone, as well as using the cover screen as a viewfinder for taking higher-quality selfies (especially with the ultra-wide lens).
The cover display is a statement piece for the Razr+, one that'll hopefully be enough to keep it competitive with the rest of the market as it continues to heat up throughout the year.
Folding display
Big, bright, and fast
When it comes time to unfold the Razr+, you're greeted by a huge 6.9-inch 2640x1080 display with a P-OLED panel. And it's absolutely beautiful.
I remember being impressed with it at Motorola's hands-on session for reporters, and I was delighted to find that same impression carried over when I powered the device on for the first time. Colors are vibrant, blacks are nice and inky, and viewing angles are quite good. Everything from tiny text to Hollywood motion pictures look excellent on this display.
My two favorite aspects are the brightness and refresh rate. The device can reach up to 1,400 nits, which means it's plenty easy to see in direct sunlight (even through my polarized sunglasses on the Ocean City boardwalk). The 165Hz refresh rate, meanwhile, ensures everything you do on it feels smooth and silky. Granted, it's hard to see a difference between 120Hz and 165Hz (the law of diminishing returns strikes again), but I honestly think I can feel a difference. Something about the Razr+'s refresh rate feels more confident and reliable than the 120Hz phones I've used.
Of course, it's not perfect. As I said, this is a 6.9-inch display, which means it's 0.2-inch larger than the iPhone 14 Pro Max and a hair larger than the Galaxy S23 Ultra. Its 22:9 aspect ratio doesn't help as it makes it much taller than other phones. While it's skinny enough to type on with one hand, you'll need both to reach every corner.
Still, at least it folds in half and doesn't feel like a brick in your pocket.
I also have some contention with both displays' auto-brightness. Depending on how I was holding the Razr+, the ambient light sensor would rapidly dim or brighten the screens to unusual levels. I'm used to auto-brightness taking its time when transitioning between different lighting, so I was thrown off by this (what I assume to be) bug.
Design and hinge
It's thin, it's light, it's hip, it's now!
Anyone get the reference? No? Okay…
The Razr+ looks a lot different than previous Razr phones, primarily thanks to the lack of a chin. Motorola got rid of it in the name of modern design, but I will admit, it was an iconic part of the Razr line and will be sorely missed.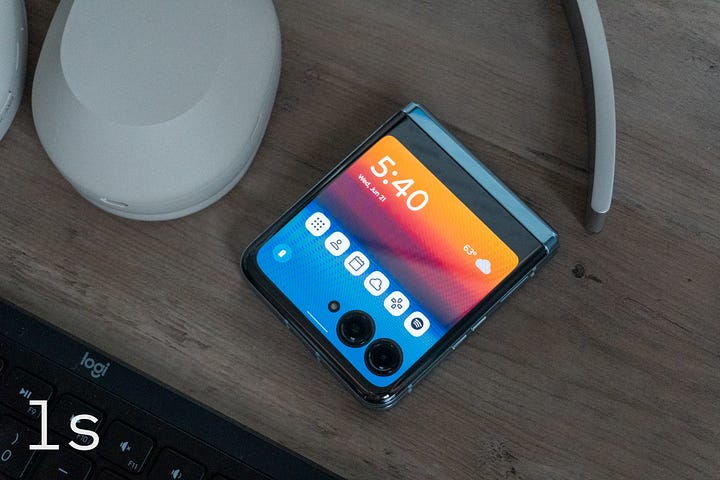 That being said, this is still a good-looking phone. The device uses 7000 series aluminum for the frame and Corning Gorilla Glass Victus for the front and back. I received the Glacier Blue model for review which is very charming, but you can also get it in Infinite Black and Viva Magenta (a T-Mobile exclusive in the U.S. with a vegan leather backplate).
The glass on the back is frosted which helps to reduce fingerprints, but you'll still be smudging it up while using the cover display and opening/closing it.
It's also incredibly slippery, for a couple of reasons. Reason #1: The frame has a glossy finish and makes it impossible for your fingers to grip. Reason #2: This is the thinnest flipping phone to ever ship at just 6.99-mm when open. Every time I open this phone, I'm a little worried I'm gonna drop it. Don't get me wrong, its thinness is impressive, but it does my confidence level in opening the phone no favors.
The Razr+ is also really light. At 188.5 grams, it's nothing to hold for long periods of time. The 6.9-inch screen makes the phone seem like it would weigh more, but it thankfully doesn't.
I'd also like to mention the Razr+'s IP rating. Motorola had it rated for IP52 certification, which doesn't sound like much compared to the IPX8 certification of the Galaxy Z Flip 4. And that's kind of true: you really have to be careful around water with the Razr+ - don't go dunking it in every random body of water you find.
But the "5" in the middle of "IP52" means you get dust and dirt protection, which is nonexistent on Samsung's phones. This isn't just some fuddy-duddy dirt protection, either; IP ratings only go up to 6 when measuring protection from small particles, so for the Razr+ to get to 5 is pretty impressive. It means you won't have to worry as much about dropping it on a dirty floor or using it on a beach, which is a huge advantage for Motorola versus the competition.
A lot of the extra protection has to do with the hinge, which was re-engineered to close completely flat by bending the display into a waterdrop. This helps not just with durability, but also decreasing the significance of the crease in the middle of the screen. Mind you, it's still there, but it's far less pronounced than other phones. You'll barely feel it in daily usage.
The hinge supports angles from 45 degrees to 135 degrees, which is its biggest downside. The Galaxy Z Flip 4, for context, has a free-stop hinge, meaning it can stop at whatever angle you want. Eventually, the Razr+'s hinge will either open fully or close automatically, which limits the ways you can prop it up for flex mode.
Speaking of which, flex mode is also here with a usual suspect of features: you've got split-screen YouTube player support, a photo booth mode for taking selfies from far away, the ability to take photos and videos while holding the phone like a camcorder (a highly underrated feature), and split-screen multitasking for running whatever apps you want. This is standard affaire for a flip phone nowadays, but it certainly doesn't get any less fun to play with.
Oh, and you can slam shut the phone when you want to hang up on someone, just in case you were wondering.
Performance
Fast and reliable, but a little warm
The Razr+ is using Qualcomm's Snapdragon 8+ Gen 1 from last year, which may come off as out-of-date to the nerdiest among us. However, it was a great chip when it initially launched, and it remains a great chip today. I had nothing but excellent performance thanks to it, from switching between apps to multitasking to playing heavy games like Asphalt 9.
There's 8GB of LPDDR5 RAM which I found to be sufficient (at least for my use case), along with 256GB of UFS 3.1 storage, which is some of the fastest on the market. Overall, this phone felt like any other flagship from 2023.
Where I did experience some issues was heat management. Whenever I'd play a heavy game or watch a video with the screen brightness set to around 80 percent, the cover screen portion of the device would get unusually warm. I also noticed that it's tricky to keep the phone cool in hot conditions, which isn't great since the Razr+ is launching in the summertime. I asked a few other reviews if they experienced these issues, and none of them seemed to have them on as regular a basis as me. This could be a bug that'll get fixed, but I wanted to highlight it nonetheless.
Cameras
They could use some work
I realize the camera section of any smartphone review is important and worthy of broad exploration (especially when it comes to flagships), but folks, I'm not very encouraged to spend a ton of time on the Razr+'s camera setup. Because quite frankly, it's not that good.
The main camera is a 12MP f/1.5 sensor, coupled with a 13MP f/2.2 108-degree ultra-wide. I've taken lots of different pictures with these cameras and compared them to the same pictures captured on my iPhone 14 Pro Max and Pixel 7 Pro. And to no one's surprise, the Razr+ takes a backseat to both.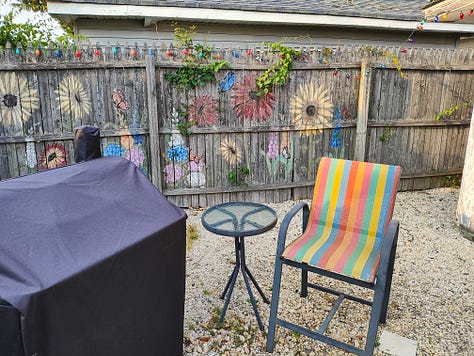 I'm not sure exactly why I dislike photos taken on the Razr+. Maybe it's the poor processing, maybe it's bad hardware, maybe it's the color tuning. Whatever the reason, photos from the device tend to come off as lifeless with crunchy contrast, odd color saturation, and an unwillingness to let softness be soft.
Here's my favorite example of the Razr+'s poor photo processing. This is one of the thickest, juiciest burgers I've had in recent memory (thanks Mom!), paired with some potato chips and a Stella Artois. The iPhone and Pixel retain all the color and detail that I remember before I devoured it, while the Razr+ made it seem dull and unappealing.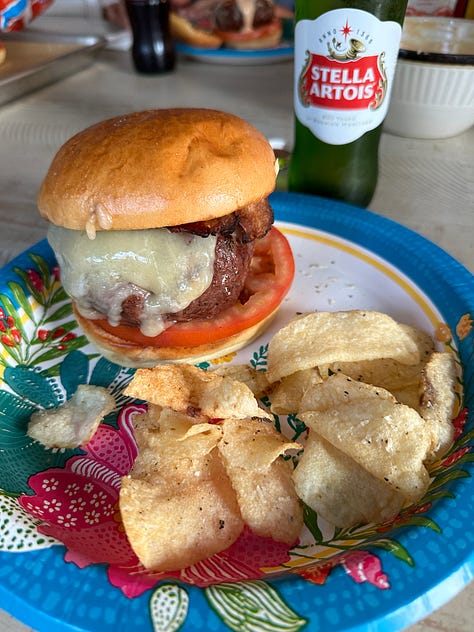 The ultra-wide camera also struggles to keep the same color tone as the main lens, which threw me off quite a bit. Meanwhile, the 32MP selfie camera was strictly fine, but in a sense of "it's good for video calls" and not "it's good for Instagram."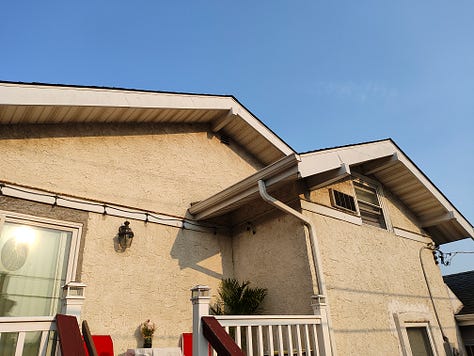 In addition, nighttime photography on the Razr+ is really tricky. You can land some okay shots (check out the fire pit photo above), but the camera struggles tremendously to lock focus and capture something usable. Meanwhile, the ultra-wide camera lets in less light as it is, so you can imagine that it's even worse in darker conditions.
The Razr+ also isn't great at video. Each clip I've recorded has weird sharpening and artifacts, which greatly reduces my urge to record with it. It can shoot in up to 4K at 60 frames per second, but you're locked to only using one camera at a time; in other words, you can't zoom out and use the ultra-wide camera after you've begun recording. You can do this on basically every other modern flagship phone, so I'm curious why it isn't supported here.
Even though the quality might not be there, the cameras on the Razr+ are some of the most fun to use. Not only do you have that handy photo booth mode with flex mode and a special camcorder orientation, but you also get horizon lock, which locks the camera to the horizon and keeps it there regardless of how you hold your phone. It's only available in 1080p, but it works really well. After recording horizontally for a couple of seconds, I turned the phone sideways to hold it vertically and the frame remained steady on the horizon. This could be helpful if you're recording a lengthy performance and don't want to hold your phone with two hands the entire time.
You can also turn on a live viewfinder on the cover screen to give your subject an idea of what they look like while you take their picture. The feature works not just in the default Moto camera app, but in third-party apps as well like Instagram. And if you're taking a picture of a child, the Camera Cartoon feature comes in handy with a fun animation on the cover screen to distract them and put a smile on their face.
Battery life
It's pretty good
The 3,800mAh battery inside the Razr+ is the same size as the Galaxy Z Flip 4, and much like that phone, this phone has decent endurance.
During my testing, I played a lot of Spotify over Bluetooth, regularly scrolled through social media, took some photos, played a few games, and responded to emails and Slack notifications. After unplugging it at 100 percent, I noticed the battery would drop to around 20 percent when it came time to hit the sack.
That's not terrible, especially for a phone that folds in half and is 6.99-mm thin. I also noticed that I'd end days with more battery if I used the cover screen more to get things done; instead of using the huge, bright folding screen to check my inbox or manage my to-do list, I would handle it on the cover display and get an extra 15 percent (give or take) in the tank by bedtime.
When it comes to recharge, you have two options: 30W wired charging or 5W wireless charging. Neither are the fastest on the market, but they get the job done. I wish more companies would follow OnePlus' hot pursuit of the fastest charging technically possible on a smartphone, but I guess that might not be possible on a phone of this caliber (at least not yet).
Like many foldable phones, the Razr+ isn't going to give you two-day battery life. But that's okay. I'm just happy it can last a full day with no problem, even with the ultra-fast refresh rates and powerful performance.
Software
Clean, minimal, and helpful
I'm a sucker for a clean and minimal Android experience, and Motorola delivers that with its lightweight skin on top of Android 13. It feels about as close you can get to the Google Pixel experience without going full-on AOSP, which is a really nice change of pace for foldable hardware.
Motorola ships its suite of proprietary software on the Razr+, including a slew of gestures that have been around since the Moto X days. Double-chop to activate the flashlight, double-twist your wrist to get to the camera, raise the phone for Peak Display and glance at your notifications, use multiple fingers to take screenshots, and so on. These are all welcome features in my eyes since they don't get in the way or clutter up the experience.
Unfortunately, the phone is only being promised three years of major software updates and four years of bi-monthly security updates. Other companies like Samsung and Google are committing to 5+ years of software updates, so if you want the latest version of Android years down the line, you'll need to upgrade your phone's hardware. That being said, I've heard of Motorola flagships with just two years of guaranteed updates, so it could be worse.
Speakers, security, and other things
Alright, some extra thoughts on the Razr+.
The speakers aren't great. They're technically tuned with Dolby Atmos, but it doesn't make much of a difference. Everything sounds tinny and lifeless with no low-end at all. Thank God for Bluetooth earbuds, amirite?

Motorola includes a fingerprint reader on the side of the Razr+ for unlocking, and it works perfectly fine. I've had no issues with reliability or sensitivity—it's worked every single time I've touched it.

I've heard from some reviewers that they've had issues with 5G reception and significant battery drainage. I didn't have any of those problems with my review unit, but it's something to look out for.
Should you buy the Razr+?
Motorola has something in the Razr+. From the widely versatile cover screen and excellent performance to the all-day battery life and IP52 rating, this is a really solid foldable phone, one that I'll find myself reaching for when I feel like using something that feels more futuristic than my iPhone.
The only caveat—and this is a doozy—is the fact the Galaxy Z Flip 5 is right around the corner. We're expecting that phone to come with a big cover display as well, albeit not quite as big as the Razr's. It'll also likely have better cameras since, well, it's Samsung we're talking about. The chipset will also be the newer Snapdragon 8 Gen 2.
If none of that appeals to you, though, I think the Razr+ is worth checking out. Sure, you'll need to deal with underwhelming cameras, but there's no question that this is one of the best flip phones in the world, let alone the United States. You probably won't even have to pay full price thanks to aggressive carrier discounts and other promotions.
The Razr lineup has gone through some monumental growing pains since its inception three years ago. From a phone with a crackling hinge to one with proper dust resistance and an ultra-thin form factor, Motorola has done a lot of work to refine the foldable Razr experience. The form it's reached in 2023 is one worthy of sliding into your pocket, even with competition as stiff as it is.